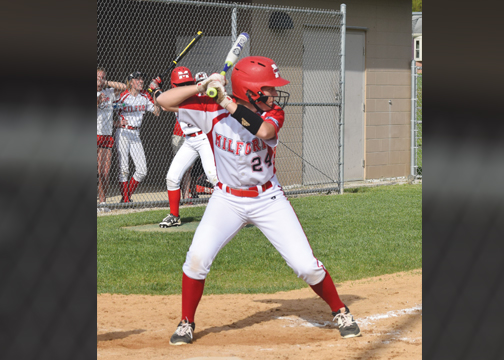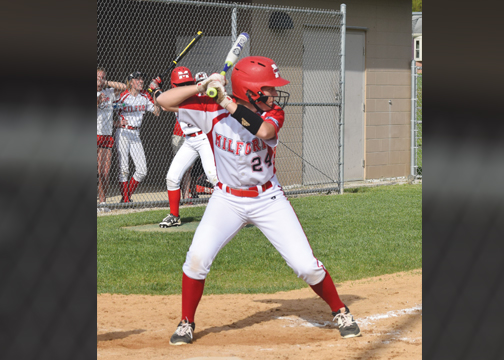 By Garth Shanklin
Sports Editor
For the fourth consecutive season, the Milford Eagles' softball team is celebrating an Eastern Cincinnati Conference championship.
The Eagles clinched at least a share of the conference crown last week by defeating Kings 2-1 on the road. Two days later, on April 28, the Lady Eagles clinched the title outright by defeating Kings again 6-2.
The wins are part of a now five-game winning streak that has sprung up in the wake of a 6-2 loss to Lakota West on April 25. Prior to that game, the Lady Eagles were 17-1 on the season, with the team's only loss coming to an out-of-state opponent.
"We've had a really great season," head coach Christy Gregory said. "We went to Walt Disney Sports in the first week of the season and a team out of Chicago who was a state final four team beat us in extra innings. That was our only loss of the season until Lakota West."
The Lady Eagles played three games in Florida during the final week of March, defeating a team from Appleton, Wisconsin 8-4 and knocking off a team from Badger High School in Lake Geneva, Wisconsin 13-1. The team's lone loss was a 5-4 extra inning defeat to Deerfield High School in Deerfield, Illinois.
Gregory said she wasn't sure how the team would respond once the squad returned home from the trip.
"It's one of those things where you go, 'It's the first week of the season, are they going to come back tired, are they going to adapt to the change of climate, are they going to shut down after that,'" Gregory said. "You have to get the right kids and the right year, and I think it's been great for us. We were able to get three games in that nobody else did that week against good competition. There was awesome team bonding for us the entire week."
Of the team's 24 games so far, senior Valerie Thompson has toed the rubber in the circle for the majority of them, posting a 1.21 ERA while striking out 106 batters in 116 innings.
"She has a lot of movement on her ball as a lefty," Gregory said. "She can throw hard and she has a variety of pitches. There's a lot of movement on her fastball."
Offensively, Milford has several hitters near the top of the ECC. Kelsey Seitz entered the team's game against Kings on April 28 batting .547, good for second in the conference. Seitz has also knocked in 42 runs thanks in large part to a team-leading six home runs.
Katelyn Rheude is right behind Seitz in terms of batting average, as her .508 mark is good for third in the conference. Rheude's 11 doubles led not only the Eagles but the ECC as well, with teammate Katelyn Reynolds right behind at 10.
"We work really hard on hitting," Gregory said. "We work on spreading the ball and situations. We try to think about where and what to do with the ball every time we're up to bat. When we have runners on second and third, we need to put the ball behind the runners. You'll hear a lot of times from teams 'If we had just gotten that one hit,' and we've gotten that hit over and over again."
Coming off a doubleheader sweep of Withrow in which the team scored a total of 28 runs, Milford head coach Christy Gregory said now that the team's goal of winning the conference has been completed, the focus shifts to the postseason.
"We [needed] to beat Kings to win our league," Gregory said."That was the number one goal, that'd be four years in a row. We need to get ready for the postseason. We need to come out of sectionals as champions."
Milford awaits the winner of Walnut Hills and Mercy. The Lady Eagles begin their postseason quest at home on Wednesday, May 10 at 5 p.m.