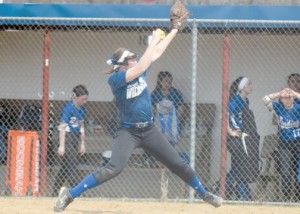 By Garth Shanklin
Sports Editor
The Williamsburg Lady Wildcats began their quest to return to the state tournament by dominating their first three opponents to start the regular season.
First, Williamsburg welcomed Reading High School to campus for a doubleheader on Saturday, March 25. Carly Wagers started the first game in the circle for the Lady Wildcats and wasted no time picking up where she left off in 2016. Wagers rolled to a five-inning perfect game, yielding no baserunners while striking out 12 in a 14-0 win.
The Lady Wildcats got things started early in game one. Peyton Fisher led the game off with a single. Faith Golden followed with a double, and a Kacey Smith triple scored the Lady Wildcats' first two runs. After Rylee Clark hit a hard out to right field, Wagers launched her first home run of the season to plate herself and Smith, giving Williamsburg a 4-0 lead after one inning.
The top of the order was responsible for three more runs in the second inning. Fisher drew a one-out walk, Golden singled and Smith plated both of them with a three-run shot that put the Lady Wildcats ahead 7-0.
The entire team got into the action in the fourth inning. Smith and Clark singled with one out, and a double by Wagers brought in a run. Makayla Kirshner homered, clearing the bases. The Lady Wildcats weren't done, however. Kara Bailey walked, and one out later Jacee Rohne singled in Kirshner. Fisher singled and eventually scored the team's 14th and final run.
Wagers was the story in the circle, however. She struck out the side in the first, second and third inning of the game. The first Reading player to put a ball in play grounded out to shortstop in the fourth inning. Wagers struck out three of the final five batters she faced, finishing her perfect five innings with 12 strikeouts, two groundouts and a pop out. Williamsburg head coach Rick Healey said Wagers' combination of speed and movement make her tough to hit.
"We didn't have a gun, but I'd say she's probably throwing 61 or so, and in high school that's bringing the ball," Healey said. "She moves it around, it's not in the same spot. That's a collegiate speed."
Wagers continued her strong play in game two. Smith pitched the game for the Lady Wildcats, allowing a leadoff single and a pair of walks. No other baserunners reached base, and none of the three advanced past second base.
Wagers and the rest of the Lady Wildcats continued their habit of advancing past second. Fisher led off the first inning with a single, as did Clark. Smith drove the pair home with a two-RBI single, then scored herself on Wagers' second homer of the day. Williamsburg added a fifth run to take a 5-0 lead into the second inning.
More runs scored in the second. Fisher led off with another single and Clark followed with a base hit of her own. Smith flew out to center for the first out, but Wagers drilled her third home run of the game over the right field fence, giving Williamsburg an 8-0 lead. One out later, Emma Jeffers doubled, Rachael Tidwell reached on an error and Tori Steinhaus knocked in a run with a single. Bailey's base hit scored another run, and Fisher's triple, her second hit of the inning, brought home two more. Clark plated Williamsburg's final run of the inning with an RBI single that scored Fisher.
Williamsburg won the second game 16-0, sweeping the doubleheader with a combined score of 30-0. On the day, Fisher picked up five hits in six at-bats, Smith finished 5-for-7 with a triple, a home run and five RBI. Wagers tallied five hits: three homers and a double. Of the 30 total outs between the two games, 20 were recorded via strikeouts by Williamsburg pitching.
As successful as the team was on opening day, Healey said the squad has to continue their game-by-game approach to the season.
"I told them over here, it's game-by-game," Healey said. "Starting Monday, today doesn't mean anything. It's a win, but that's all it is. They've got a Final Four banner and they've got an Elite Eight, but if they don't play game-by-game and play hard, get smarter and get better, it'll go away."
The Lady Wildcats apparently refocused for their league opener quickly. The team faced Clermont Northeastern on the road on Monday, March 27 and rolled to a 24-1 victory. Wagers struck out seven batters in the victory while also picking up four hits in four at-bats, two of which were homers. She drove in seven runs. Clark added five RBI on two hits, while Smith hit her second home run of the season and drove in four runs.
Healey said the Lady Wildcats have a difficult schedule ahead of them, but he awaits the challenge.
"Reading's a very good team, but reality says that somewhere down the line we're going to face another [good] team," Healey said. "Ross is an extraordinary team, Clinton-Massie has an extremely good pitcher, Badin is a great team…they're all on our schedule. I look forward to playing them. The teams in the southwest district are some of the best teams in the state."
The Lady Wildcats return to action on Friday, March 31 with a home contest against Blanchester at 4:30 p.m. The team hosts Fayetteville in a doubleheader on Saturday, April 1 beginning at 11 a.m.