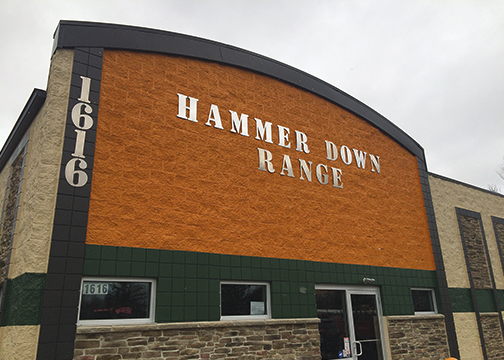 By Brett Milam
Editor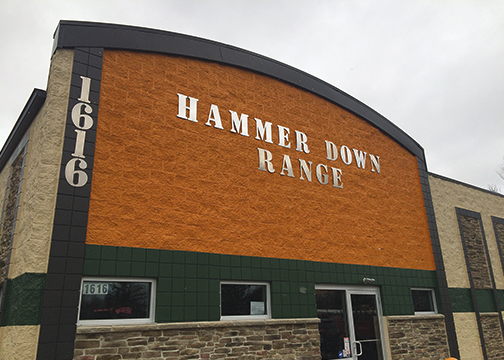 From garage to gun range, Steve Ling has opened the latest indoor gun range in Goshen Township, with a ribbon cutting ceremony on Jan. 27.
Hammer Down Range at 1616 Ohio 28 hopes to be something of a social club, Ling said.
"Use the lounge and talk about other stuff," Ling said. "It's kind of like going fishing."
Except this "fishing" features three bays and 20 lanes for shooting, customizable guns – like turning your gun into the University of Cincinnati Bearcats colors – and youth training in firearms lessons.
Ling said the first bay will be private lanes used for machine gun shooting, birthday parties and team-building events.
"We're really a customization shop," Ling said, which he added sets them apart from other indoor gun ranges.
The lounge in question features a plethora of tables, chairs and a big screen television outside of the firing lanes. If not doing that, there's several gun-related accessories to shop for, like ear plugs, holsters and snap caps.
And guns, lots of them, lining the racks behind the counter or under a glass encasing.
Ling said 40 people had already acquired memberships to the Hammer Down Range before the official opening. Memberships work on a tier system, offering standard, expert and corporate.
Standard is $29.99 a month, expert $49.99 and corporate $124.99 a month.
But for those just walking in to use the lanes, hand gun lanes start at $11.99 and rifle lanes at $14.99 for half an hour, respectively.
Many big names in the area turned out for the ribbon cutting, including State Senator Joe Uecker, a Republican representing Miami Township; Goshen Township Police Chief Bob Rose; Warren Walker with Duke Energy; Matt Van Sant, president of the Clermont County Chamber of Commerce; Former director of the Small Business Development Center, John Melvin and the newest Clermont County Sheriff Robert Leahy.
"Goshen is thrilled to have a new business in town and being gun nuts in the police department, we couldn't be happier to have a firing range," Rose said.
Uecker said he's been to a lot of ribbon cuttings, but he's "never felt so safe" as this one.
"But it really is a unique story, if you get to listen to it," Uecker said of Ling.
Ling, who is from Quebec, Canada and is fluent in French, moved to Goshen Township in 2000 and by 2011, started the gunsmith side of the business in his garage. A year later, he made national headlines with his bucket list dream of putting a gun range inside a school.
After the Sandy Hook massacre squelched that dream, Ling bought the 1616 location at a sheriff's auction, nothing that, yes, "they do work."
"We put a lot of capital in here, but hopefully we'll make it really good for the township," he said.
For Ling, who is 43, it's his retirement plan. There's money in gun ranges, he said, but it's also about teaching. He was taught how to use a gun by his dad.
"I like to teach," Ling said. "That's the main thing."
For more information about Hammer Down Range, visit www.hammerdownrange.com.