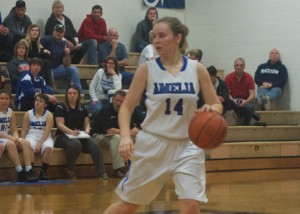 By Garth Shanklin
Sports Editor
The Amelia Barons tipped off their final girls' basketball campaign with a home contest against the Bethel-Tate Lady Tigers on Nov. 28.
Early on, it appeared Amelia would run away with the game. The Lady Barons jumped out to an 8-1 lead thanks to six first-quarter points from Shelby Hatcher. The Lady Tigers answered, getting a pair of free-throws by Allison Parks to cut the lead to 8-3. After another made free-throw by Haylee Foster, Parks responded with a three-point basket that cut the Lady Barons' lead to one with 3:18 left in the first quarter.
The Lady Tigers took the lead on a pair of free-throws by Morgan Reinhart, only to see Amelia go on a 5-0 run. Reinhart hit a two-point shot with just six seconds left on the clock to give the Lady Barons a 14-11 lead at the break.
The second half was a bit of a struggle for both teams offensively. Bethel-Tate scored first, as Maddy Burton hit a shot to pull the Lady Tigers within one. Nearly four minutes ticked off the clock before the next basket by either team. After Sarah Gardner's two-point shot, the Lady Tigers held a one-point lead with 2:50 remaining in the half. They added a free-throw at the 1:58 mark.
Amelia made their first and only basket of the second quarter with 1:43 remaining. The game was tied at 16 at halftime.
Both offenses came out firing in the second half. Amelia opened the period on a 3-0 run. The Lady Tigers scored back-to-back baskets to take a lead, only to have Amelia answer with six straight points.
Bethel-Tate tied the game at 25 with a basket by Burton with 1:58 left in the third quarter.
On the Lady Tiger's next possession, Reinhart drew a foul on Amelia's Courtney Stewart. Reinhart hit the second of two free-throws to give the Lady Tigers a 26-25 lead entering the fourth and final quarter.
With 3:25 left in the game, Amelia and Bethel-Tate were tied at 33. Kylie Smith fouled Foster, who hit the shot but couldn't convert the three-point play.
Amelia's Kasey Broughton tied the game at 35 with a two-pointer, sparking a 6-0 Amelia run that put the Barons ahead 39-35. Foster hit a three-pointer with 12.6 seconds left to pull the Lady Tigers within one. Reihnart fouled Smith, sending the Lady Baron to the line for two free-throws. The freshman connected on one of two, giving the Lady Tigers one last shot. Foster's three-point shot hit the rim as the buzzer sounded, sealing Amelia's 40-38 win.
Reinhart finished the game with eight points. Foster also tallied eight for the Lady Tigers. Allison Parks led the team with 11 points.
Hatcher's 11 points led the Lady Barons. Smith added six, while Brooke Koehnke and Broughton both chipped in eight.
Amelia head coach Tara Kaiser said she was happy with how the team played together.
"It feels great," Kaiser said. "The girls have really been working hard, and for them to come together and make free throws and communicate…we had a couple mishaps, but when we needed to finish it, that's when our senior leadership and our junior leadership showed."
Fallis said the team has not yet figured things out, but he gave credit to the Lady Barons for their performance on the court.
"We haven't put all the pieces together yet," Fallis said. "Amelia played extremely well, you have to give them credit. This is the last year playing in this gym and you can tell they want to go out on a winning note."
Fallis said the team had foul trouble early in the game, which forced them to play younger players more than he would have liked.
"We got in foul trouble early, had a lot of freshman in today who aren't tested at the varsity level," Fallis said. "They held their own and helped us get some rest and get to the second half so we can get starters back into the game. We haven't gelled yet as a team. We have a new group playing together."
The Lady Barons were able to take advantage of the Lady Tiger's foul issues, Kaiser said.
"We were in a good situation because they had more fouls than we did," she said. "We talked about going attacking the basket and hopefully getting to the free-throw line. It didn't work great, but in the end we won."
The team's struggles in the second half were due to a lack of communication, but they were able to refocus after the break and get the job done.
"The girls said we just broke down," Kaiser said. "We broke down talking. We broke down defensively and offensively. I think they were a little tired. At halftime we really wanted to get our focus back on what we do well. That's our focus for this year: keying on what we do well."
Fallis said the team identified what went wrong in the locker room after the game.
"We struggled mentally today, when to pass, when to shoot, when not to," he said. "I didn't talk in the locker room, I had them talk and they said the same things I was thinking. It's disappointing, we didn't think we'd start the season 0-2, but I told them this is a great test for us, how are we going to respond from here on out?"
While the result wasn't what the Lady Tigers would have liked, Fallis said the team's resilience from an early deficit was a positive.
"I really liked the fact that we were down 8-1 in the first quarter and our body language was still very positive," Fallis said. "We just kept playing. That's what kept us in this game, we'd get down and we'd keep playing."
Fallis makes sure the team always gains something from their game, regardless of the result, he said.
"I told them winners never lose, you either win or you learn. We're doing a lot of learning right now," Fallis said.
Bethel-Tate hosts Goshen on Dec. 1 while Amelia visits Blanchester. Both games begin at 7:30 p.m.