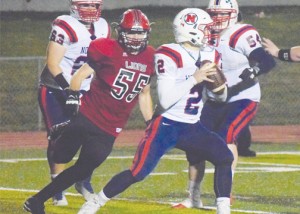 By Garth Shanklin
Sports Editor
The New Richmond Lions did something on Oct. 28 that no other team had done this season.
Norwood entered the de-facto Southern Buckeye Athletic and Academic Conferece American Division championship game hosted by the Lions averaging nearly 50 points per game, having won eight of their first nine games this season.
They had yet to face a defense quite like New Richmond's, however. The Lions entered the game allowing just 14.33 points per game on the season, and the team's defensive squad rose to the occasion yet again against the Indians.
New Richmond rolled to a 35-7 win over Norwood, clinching both the division title and a home playoff game.
The Lions started the scoring with a 16-yard touchdown reception from Chandler Kinalt from quarterback Josh Anderson. One quarter later, Anderson struck again, this time keeping it himself for a 15-yard touchdown run. The Lions led 14-0 at halftime.
Norwood started the second half strong. The Indians converted a fourth and four deep in their own territory with a fake punt, which gained 32 yards. Matt Goodman scored on a two-yard touchdown run to pull the Indians within seven points.
After New Richmond's next drive stalled, the Lions' defense awoke with a roar. Goodman completed a pass to Ollohjowon Wellington, only to have junior Jessup Durbin lay the lumber on Wellington, dislodging the ball. Fellow junior Devin Milton picked up the fumble and returned it 23 yards to put the Lions ahead 21-7.
Norwood's defense rose to the occasion in the fourth quarter, stopping a New Richmond drive to get the ball back for their offense. However, Ethan Gundler would pick off another pass, his second of the game, to give the ball back to New Richmond.
Anderson scored on a three-yard run to put the Lions ahead 28-7. Norwood coughed the ball up again later in the quarter, leading to a two-yard score from Kinalt that provided the final score of the game.
The victory gave the Lions sole possession of the SBACC American Division title, further proving the point Stratton and the team has made in the past regarding the division championship.
"I'm proud of our guys, they fought, they played for each other," Stratton said. "We proved what we say all the time in that the league title runs through this stadium every year."
Stratton credited the team's defensive staff for coming up with the game plan that stifled the Indians' offense.
"We've had a great defense all year, tonight was just another example," Stratton said. "Our defensive staff does a great job, they put together another great game plan. They run the ball with their quarterback, we completely took that out of their game plan and made them do what they don't want to do: throw the ball a lot. Our DB's made plays when we needed them, we forced some turnovers."
Both turnovers were interceptions by defensive back Ethan Gundler, his sixth and seventh interceptions on the season.
"He's the leader in our defensive secondary," Stratton said. "He also really improved our kickoff coverage and our punt coverage. He made a ton of tackles on on our punt team. Everybody's important. Every player on our team is important, and he's an example of that. When he came back we got a lot better."
Stratton was also quick to point out that the Lions don't rely upon just one player on defense or offense.
"We're not a one-good-guy on defense team," Stratton said. "We're not a one-good-guy on offense team. Everybody on our offense can score every time they touch the ball. We've been working towards that for years because it hasn't always been like that. We had to change our offense a bit and not be as one-dimensional and I think we've done a great job of that this year."
While the Lions' offense wasn't as sharp as it has been at times this season, Stratton credited the team's inconsistency with the ball to tough play from the Norwood defense.
"I wish we could've played a little better offensively, but I'm going to give credit to their defense," Stratton said. "They really got after us in the second half, and I think they forced us into some situations we didn't want to be in. When you have a defense like we do you can take some chances on offense. That's what we do, and sometimes they pay off, sometimes they don't."
Stratton said he was thankful to coach the team this season, a year in which the Lions have won nine straight games and a league title.
"I'm just really, really proud of our kids," Stratton said. "Really proud. That's the first group that I've ever had freshman through senior in my coaching career. I've always kind of moved around, I've never really stayed anywhere for four years and watched a group grow up from freshman to seniors. They're a really special bunch to me and I love those kids with all my heart."
With the victory, the Lions had a shot at clinching a home playoff game. The team came close to securing one last season, but instead had to travel to Mount Healthy for their postseason opener.
"It'd be great for our community," Stratton said. "We talked about it last year and we just barely missed out on it last year. Our community supports the football program so well, they really care about what the red helmet represents. I think that they deserve a home game as much as our players do."
Fans and players alike received just that, as the Lions finished third in the standings in Division III, Region 12, earning the right to host Mount Healthy on Saturday, Nov. 4 at 7 p.m.