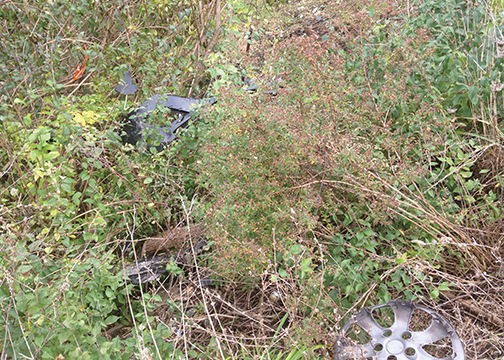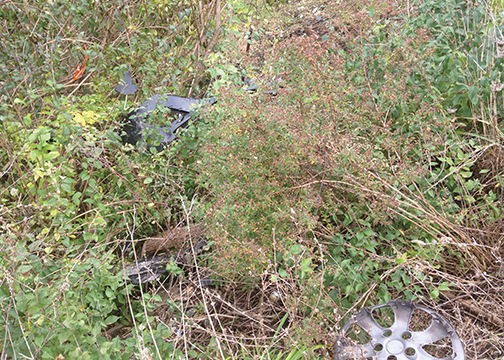 By Kelly Cantwell
Editor
A Williamsburg man was found in his car on Oct. 31, possibly more than 24 hours after he crashed.
Ryan Ninichuck and Jeff Armstrong, both highway tech workers for the Ohio Department of Transportation, were driving on state Route 133 on Oct. 31 when they saw a dead deer on the road. Part of their job is to pick up dead animals from the road, Ninichuck said.
While they were picking up the deer, they noticed a car down in the ravine. They realized it wasn't a junk car, so they went over to it and saw a man's foot through the back window.
Armstrong ran back to the car and called 911 and then they both went down and started talking to the driver, who was later identified as Kory Chambers, 38, and trying to get his attention. Once they got Chambers to start talking, he said he had been there a couple days, Ninichuck said.
Chambers also said he couldn't remember what happened, Armstrong said.
"You wouldn't have noticed the car just driving up and down the road," Ninichuck said.
Armstrong added that at the section of the road where the car was, it would be difficult for a driver to notice because of the speed limit and the curves in the road.
Ninichuck described walking to the car as eerie because they didn't know what to expect and were assuming the worst.
"It was a big relief to hear the guy mumble," he said.
They were also relieved when Chambers was able to tell them he was on his own, so they knew that no one had been thrown from the car, Armstrong said.
"It was just pure luck that we even went down there," he said.
The driver was taken to the hospital by helicopter and the last time that Lt. Wayne Price, with the Ohio State Highway Patrol Batavia post, spoke to Chambers' family he was alert and stable.
At this point, the OSHP knows the crash happened after 11:30 p.m. on Oct. 29, but they hope further investigation will help them pinpoint a more specific time. They received the call about the crash at 8:40 a.m. on Oct. 31.
Price does not know of any missing person report on Chambers, but believes based on information he has received that the family was looking for him.
The vehicle, a 2010 Mazda 3, has significant damage and was resting on its side, he said.
"I commend these two. They did something…They're paying attention to their surroundings, they're looking around, they're doing the things that you would hope people would do," Price said of Armstrong and Ninichuck.
He added, "Ultimately these guys saved this guy's life."
In their line of work, Armstrong and Ninichuck are trained to be aware.
"When you're standing along the road with semis coming by you at 65 miles an hour you learn to pay attention," Armstrong said.
Price hopes to find out more as the investigation continues. Investigators did not find evidence of alcohol. It is likely Chambers failed to negotiate a curve, but investigators are not ruling out anything at this point, Price said. He does not suspect the deer was involved in the crash.
Price encouraged everyone to report something, such as a crash, if they think they hear it because it likely was a crash.
State Route 133 generally does not make the OSHP's top five routes for crashes in the county, Price said.