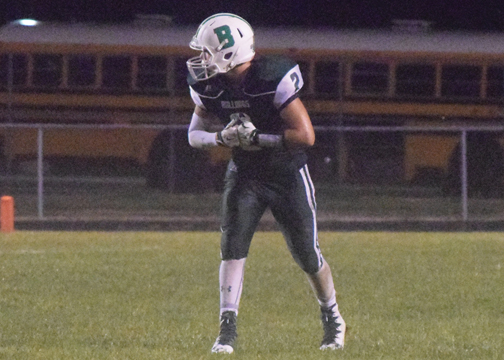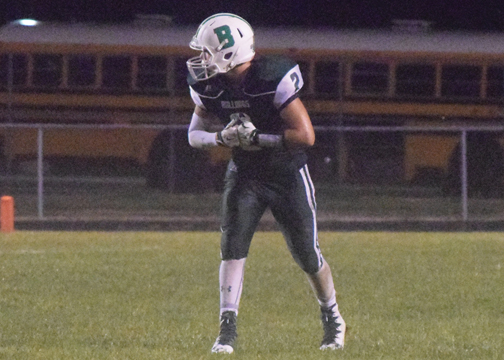 By Garth Shanklin
Sports Editor
Nearly 60 minutes of hard-fought gridiron action came down to one final play.
Batavia faced off against Portsmouth West on Oct. 21 and both teams battled to a 7-7 tie. That set up Batavia's Spencer Fluegel, who lined up to attempt a game-winning kick.
It was no sure thing, according to Batavia head coach Matt Lester. Fleugel hadn't exactly had a perfect pregame, so Lester called time out to talk to his senior.
"I told him a story," Lester said. "I called a timeout and told him a story of about how five years ago to that date I was a player at Wilmington College and we broke a 34-game losing streak on that same date five years ago on a last second field goal. I think it just kind of calmed him down. I told him we were going to make it. I don't think it had a lot of bearing on the outcome, but hopefully me telling him that relaxed him a bit."
Fluegel knocked the 22-yard attempt through to give the Bulldogs the 10-7 win, their second victory of the season.
It may not look pretty on the scorebook, but Batavia's victory came thanks to a strong defensive performance. The Bulldogs held the Senators to 145 all-purpose yards, including kickoff and punt returns. Portsmouth managed just 110 total yards of offense, including a mere three total passing yards.
Batavia was able to key in on the running game because of injuries to the Portsmouth quarterbacking corps.
"They only had two first downs the entire night, and one was a touchdown," Lester said. "The other was a big play. Our defense played spectacular. I felt like we had a good game plan. I knew they were on their third-string quarterback, so they were somewhat limited in what they could do, and that allowed us to tee off on their running backs."
Lester credited his coaching staff with formulating the game plan that led the defense to a dominating performance.
"I give hats off to my defensive coordinator and my defensive staff," Lester said. "They had a good plan. The kids were prepared for what they were going to do. We knew they'd be pretty one-dimensional and I think we were prepared to stop it. The kids did a good job tackling and got some timely turnovers."
Offensively, Batavia had to fight back after trailing 7-0 at halftime. The Bulldogs were able to answer with a one-yard run by quarterback Will Scaggs to tie the game at seven, setting up Fleugel's heroics.
Lester said the team has lost games similar to this in the past, but this time the team rose to the challenge and pulled out the win.
"We didn't break," Lester said. "So many times this season we've been outmanned, and I felt like we got to a point where we didn't believe we could win. We didn't do that at all, we just kept chipping away and eventually good defense and field position gave us some opportunities and we were blessed enough to be able to capitalize."
Batavia finished with 34 carries for a total of 81 yards offensively, with 61 yards belonging to Jake Ellington. The run game was not the focus of Batavia's offensive game plan this week, according to Lester.
"We would run enough to keep them packed in and make them respect it," Lester said. "Our play action made it so much more effective. We weren't able to run the ball effectively, and a lot of that has to do with losing Austin Maham. We were able to keep the defenders packed in and make some plays in the passing game."
Scaggs completed eight of 15 passes for 163 yards. Of that total, Fluegel caught four passes for 105 yards. Brandon Brookbank added a catch for 27 yards, while Jake Ellington hauled in a pass for seven yards. Jason Griffin and Austin Maham each caught one pass for 12 yards.
"Scaggs has improved a lot throughout the season," Lester said. "Fluegel has really became a good deep threat and an intermediate threat…It's nice to have some good athletes out there to where when we called pass plays they're able to execute."
Lester said that with the Bulldogs' record not being where they had hoped it would, the players have to grow on the field and realize their ability to play with teams of similar caliber.
"We haven't had the best season," Lester said. "A lot of it had to do with injuries and a lot of young kids playing. With a young team, they have to figure out that they're not only able to play with the competition, but they're able to beat the competition. Early on, even though they scored, we held them to 4th and 10. I think they figured out early on they had enough talent to match them."
Batavia will look to carry their momentum into the regular-season finale at Williamsburg on Friday, Oct. 28 at 7 p.m. Lester said the victory helps the team believe in their ability to compete with the Wildcats.
"It makes us confident," Lester said. "I think the kids will get up for this week no matter what because of the rivalry. We really want to bring back the trophy to Batavia. With a game like Williamsburg every year, you throw records out the window. It's going to be close. If we want to beat them, we're going to have to keep it close the whole game. In the third quarter or fourth quarter, there's going to be a big play. One team is going to get the momentum and that'll carry them."