By Garth Shanklin
Sports Editor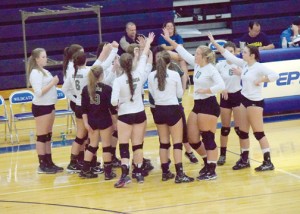 The Batavia Bulldogs haven't exactly had the best season on the hardwood this fall. Heading into the team's sectional-tournament opening match against Indian Hill on Monday, Oct. 17, the squad had won just three games on the season. Head Coach Erika Thomas, in her first year with the program, said she was just looking for some stability as the season progressed.
"We've had a rough year," Thomas said. "For some of these girls, I'm their fourth coach. It's hard to mesh and to gel."
The team traveled to Blanchester High School to take on Indian Hill, and the first two sets weren't a great example of a team that gelled. The squad found themselves trailing 18-3 at one point in the first set, which became a 25-8 loss.
In the second set, the Bulldogs kept it closer for a bit longer, trailing late 16-9. Indian Hill went on a 9-0 run to end that set with a 25-9 victory.
The third set, however, was a completely different story. Batavia held a lead as large as three points at one point in the match, and Indian Hill's rallies weren't enough to pull away. Batavia at one point had the lead down to two at 20-18, but a 5-1 run by the Lady Braves ended the set and the match. Thomas said if the team was able to perform like that in other matches this season, they wouldn't have found themselves in the position they were in.
"If we would've played like that the whole year, I guarantee you we would have been so much better," Thomas said. "The girls' mentality, unfortunately, is they're here one minute, they're gone the next. That's volleyball for you. I always tell everybody it's 30 percent physical, 70 percent mental. If your mental game isn't there, you're not going to be on top."
Heading into next season, the Bulldogs will lose six seniors from the roster. That type of leadership may be difficult to replace, but it does allow Batavia to insert players who didn't see a lot of varsity time this year.
"They brought knowledge of the game, but they've played together for so long that sometimes they'd get really comfortable," Thomas said. "That's a good thing and a bad thing. Sometimes it's hard to entwine new kids when you have six girls who have played together for so long."
The team also had three underclassmen in 2016. One freshman and a pair of sophomores saw playing time for the Bulldogs this year, and Thomas is counting on sticking around to see them develop.
"I definitely think they've gotten better as the season goes on, and they'll be a force to be reckoned with in the future," Thomas said. "My goal is to stay with the program and build these kids up."