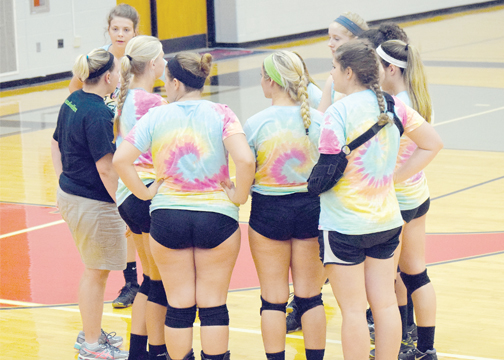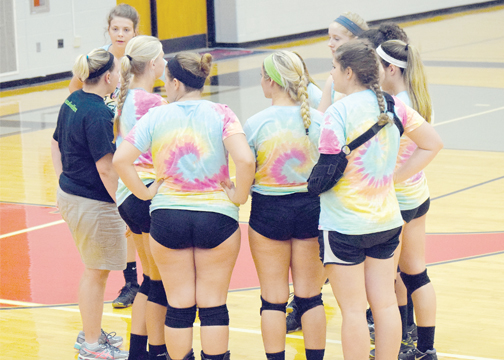 By Garth Shanklin
Sports Editor
Heading into the final volleyball season at Glen Este High School, Lady Trojans head coach Sarah Bryant wants to make sure the 2016 campaign does not end up the same way the 2015 season did.
Last year, Bryant's first season as the head coach for Glen Este, the Lady Trojans finished the season with a 9-15 record, including a 3-11 mark in the Eastern Cincinnati Conference.
Bryant said she was disappointed with the 2015 season, but acknowledged the difficulty of the ECC.
"It was a disappointing season," Bryant said. "We had four talented seniors, but we play in a very tough league. We didn't do as well as I had hoped. It was also a learning year for me. I had only coached junior varsity, so I had to step up into the varsity role."
Entering her second year at the helm, Bryant said she has made a couple changes to the program from last year.
"We started our conditioning a little earlier in the summer," Bryant said. "I have utilized the strengths of my assistant coaches a little more. We play in such a rough league, I have really tried to encourage the girls to step up this season."
One of the four seniors the Lady Trojans lost from last year's team, Carly Thacker leaves a hole at the middle hitter position Glen Este will have to fill this season. The team also lost two outside hitters and a defensive specialist.
Grace Madden is expected to step into Thacker's role this season, according to Bryant.
"She'll be setting and playing middle," Bryant said. "These are two very important roles and she'll have to do both. She's never played the middle before, so it has been a learning experience for her.
Teammate Cassie Vogel is also expected to have a larger role in 2016. Vogel earned second-team all ECC honors last year as a middle blocker.
Bryant said there are a pair of newcomers to the squad this season that should have an impact right away.
"We have two new freshman, Sophie Berger and Audrey Bard," Bryant said. "Both are very athletic. They bring a lot of energy and freshness to the team. [Berger] will hit outside and [Bard] will be our libero."
The Lady Trojans open the regular season with a road contest against Oak Hills on Aug. 20 at 11 a.m. After a visit to Colerain, the team will host McNicholas for their home opener on Aug. 24 at 6:30 p.m.
With it being the final campaign for the Lady Trojans volleyball team, they want to honor past players on Alumni Night, which will be held on Oct. 4 against Kings. The ceremony will be held between the junior varsity and varsity contests, and should begin around 6:30 p.m., according to Bryant. For more information or to RSVP to the event, alumni can contact Coach Bryant at bryant_s@westcler.org.