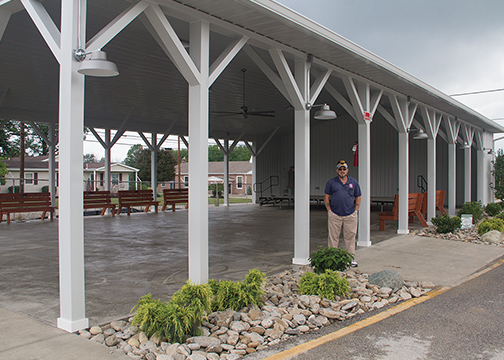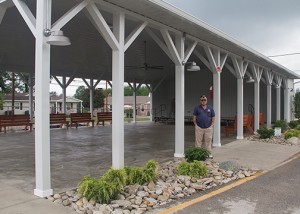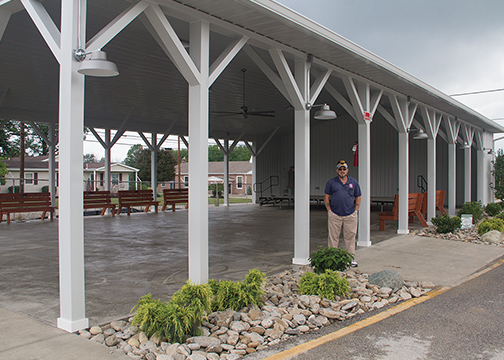 By Kelly Doran
Sun staff
The Clermont County Fairgrounds has a new building, thanks to the generosity of Jeff Lykins.
Lykins, CEO and president of Lykins Energy Solutions, donated most of the funds required to build the Lykins Family Pavilion, a new entertainment pavilion at the fairgrounds, said fair board member Jerry Bridges.
The building was completed on June 12 and the first event was held there on June 13, Bridges said.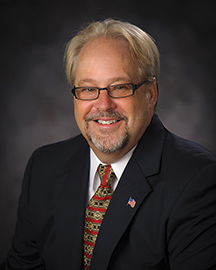 "When it's lit up at night it's beautiful," Bridges said.
The entertainment pavilion the fairgrounds used to use was right in the middle of the midway and required using a tent that made the area very hot because there was no circulation and cost a lot of money because the tent was expensive, Bridges said.
Also, because of the location and the popularity of events in the entertainment pavilion, the midway became very congested and hard to move in, Bridges said.
The Lykins Family Pavilion is located on the far end of the state Route 132 side of the fairgrounds, Bridge said.
"It's going to be a beautiful addition," Bridges said.
Bridges, who is in charge of building and grounds, has been thinking about a new pavilion for about five years, but didn't have funding until recently.
"We would not have been able to do it without the help of Lykins Energy Solutions," Bridges said.
Making sure there are top notch buildings that are comfortable and making sure there is good entertainment for fairgoers is a priority of Bridges.
Going to the county fair with his parents are some of Lykin's earliest memories, he said.
Lykins Energy Solutions began 67 years ago and has been fortunate, Lykins said.
"We've always felt we should give back to the community we get our income from," Lykins said.
The county fair is a great event, and Lykins is happy to help, he said
The Lykins Family Pavilion is going to bring additional, much needed revenue to the fair grounds, Bridges said. With the pavilion, the fair grounds will be able to have weekly concerts there.
Others sponsors of the project are Greg Simpson, Virgil Burroughs, Bill Scharber, Zach Stanfield, Prus Construction, Sardinia Concrete Company, Libbee's Landscaping and Ground Management and Murphin Ridge Building Supply, Bridges said. He's grateful to them and all the sponsors of the fair.