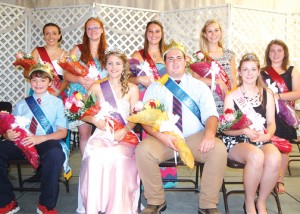 By Kristin Rover
Sun staff
The 2014 Clermont County Fair Royalty Court was named July 20 on the opening day of the fair in Owensville.
Brooks Warner and Kelsey Taylor were crowned as king and queen this year, and Ben Bayne and Erin Jennings were selected as prince and princess.
Breed representatives for 2014 include Kerrigan Meeker as Dairy Cattle Representative, Hannah Arnold as Caprine Representative, Anna Zorn as Equine Representative, Kiara Parks as General Projects Representative and Alexis Faubion as Small Animal Representative.
Outgoing King Joe Gacek and Queen Carley Snider talked about their experiences before the new royalty court was named during the program.
Snider said serving as queen made her realize that fair is about more than just numbers.
"For the past 11 years, I've spent the last week in July here," Snider said. "And I spent my time counting."
Snider said she counted the years she's been at the fair, the number of animals she's shown, the number of ribbons she won, the number of early mornings, the number of fair fries she consumed, and many other numbers.
She said after serving as queen last year, it changed her outlook.
"I started to see fair a little differently," Snider said.
Snider said she saw 4-H participants encouraging each other in the barns and participants simply excited to be able to show their animals.
"I saw people not view this week as a numbers game," Snider said.
Gacek said he can't believe it has been a year since he was crowned king.
"4-H and Clermont County Fair has been a huge part of my life," Gacek said.
Gacek said he and his friends look forward to fair week like some kids look forward to Christmas, and the fair has taught him many life lessons.
"It has taught me about responsibility, to win gracefully and lose with dignity, to work with others, it has taught me the importance of family and friends," he said.
Gacek said even when serving as king was exhausting and challenging it was worth it.
"Being able to represent Clermont County as king was well worth it," he said. "I am so thankful I was given this opportunity to serve as fair king."
Royalty candidates from 4-H clubs across the county were introduced during the program July 20.
All of the candidates were interviewed the week before the program and breed representatives, prince, and princess winners were selected after the interviews and announced during the program.
The king and queen candidates, however, were asked a final question during the program to answer in front of the audience before the judges selected a winner.
This year candidates were asked to describe character traits that set them a part from others.
Warner said his best character trait is his work ethic.
"My best character trait would be my work ethic," Warner said. "I really got my work ethic through 4-H."
Taylor said characteristics that set her apart are responsibility, her spirit and her cheerful attitude.
"As we are here we learn responsibility," Taylor said.
Warner and Taylor were announced as king and queen at the end of the program.
"I am so excited," Taylor said about being named queen. "This is my favorite place, and being (queen) is the best part of the week."
Warner said he is also excited for the opportunity.
"I think being king is a great opportunity," Warner said. "I am proud to represent this fine county."