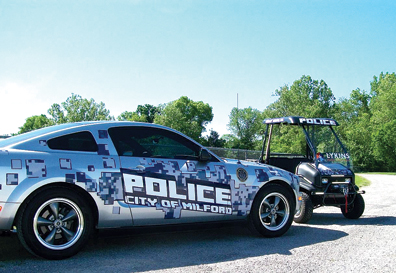 The Milford Police Department has two new vehicles for special events and functions.
Both vehicles, a Ford Mustang and a light duty utility vehicle, were acquired without spending any tax dollars.
The Mustang was seized from a felony drug OVI case and will serve as a crime prevention/DARE vehicle. Officer Kevin Heller spearheaded the project and was able to outfit the car without spending a penny. DigiMax donated all materials and labor to wrap the vehicle in a vinyl graphic that is very unique. Ohio Interlock donated the labor to remove the court imposed alcohol sensor, Sora's Towing donated new rims and underbody lighting, Michael Tire donated a new set of tires, Protection Plus Window Tint donated material and labor, O'Reilly Auto Parts and Smyth Auto Parts donated vehicle accessories, Star Signal donated emergency lights and Camp Safety donated all of the labor to install the lights. Mike Castrucci Chevrolet donated a complete tune up, detailed cleaning, and oil change.
The utility vehicle was purchased by Police Chaplain Brian Wikoff who raised funds from Milford area businesses that wanted to sponsor the vehicle. The sponsors include Lykins Energy Solutions, Evans Funeral Home, Toomey Natural Foods, Sora's Towing and Auxiliary Police Officers Gary and Mike Green. DigiMax also donated the graphics for the utility vehicle, which will be used to patrol the City parks and trails in addition to parades and festivals.
The mustang made its debut at the Greater Cincinnati Click it or Ticket Kickoff in Fairfax on May 19.
"The vehicles are unique enough that we hope they serve as an 'ice breaker' to encourage citizens to approach the officers when they see them," Chief Jamey Mills said.
Both vehicles prominently display the names of the business that made this outreach project possible. "We are truly blessed to have such tremendous support from our businesses. We view them as our community partners," Chief Mills said.