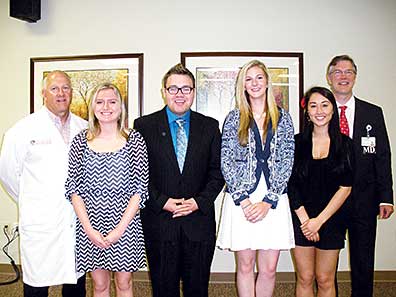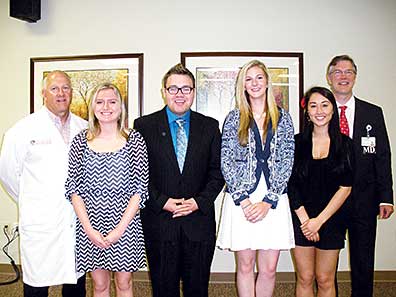 Mercy Health, which provides quality care with compassion in your neighborhood through its network of care, announces that it has awarded a number of scholarships to help talented students embark on their college careers.
Kari Anne Horn is a graduate of Goshen High School. Her guidance counselor is Marilyn Meyer.
Kari is heavily involved in her church and community outreach programs. She volunteers at a soup kitchen in Over-the-Rhine. She was also part of the Explorer Program at Cincinnati Children's Hospital Medical Center.
Kari is a member of the National Honor Society and Student Council. She is also a member of Goshen's soccer, basketball, bowling and tennis teams. She currently has a GPA of 4.32 and ranks 14 in a class of 212 students.
Kari's life, like many others, has been touched by Cancer. As a result, she plans on attending The Christ College of Nursing and Health Sciences to obtain her BSN in Nursing and to get specialized training in Oncology.
According to her guidance counselor, Marilyn Meyer "Kari is a leader by example; she is positive, pleasant and stands out as a leader… Kari has been an excellent student and an example to others during her time at Goshen High School. She is well deserving of any scholarship or award she should receive and will be an asset to any university or organization."
Bryan Tanner Phillips is a graduate of Western Brown High School and his Guidance Counselors are Tony Bohrer and Tim Cook.
Bryan's interest in the healthcare field has been prominent since he was young. He strives to get to know people and help them in any way he can.
Bryan currently has a GPA of 3.727. He is in the Honor Society and participates in the Spanish Club. He has also been enrolled in the College Prep Post-Secondary program for almost three years.
Bryan is known to have a tremendous drive to excel in everything that he encounters. His principal, Heather Cooper states that "As an educator, I am quite impressed with Bryan. He has an exceptional academic background. He is a leader and is always prepared to take an active role in any activity."
Though he originally planned on being a linguist, Bryan ultimately decided to attend the University of Cincinnati to pursue a Bachelor of Science degree in Neurobiology, before going to medical school to become an Anesthesiologist.
Kaylynn Nicole Shelton is a graduate of Clermont Northeastern High School. Her guidance counselor is Callie Holtegel.
Kaylynn has been actively involved in the 4-H program, AQHA program, Leo Club and the Honor Society. Her most significant leadership experience has been through 4-H where she has served as President, Vice President and Treasurer of the Junior Board. She also participated in Marching Band, Pep Band and Concert Band.
She enjoys giving back to her community and being involved with community service events. Kaylynn loves working and helping others and making a positive difference in their lives. Her favorite community service experience was working with individuals with developmental disabilities at Cincinnati Therapeutic Riding and Horsemanship.
According to her guidance counselor Callie Holtegel, "Kaylynn has maintained an extremely high grade point average of 3.928, despite her demanding workload. Kaylynn has challenged herself by completing courses including AP American History, Honors Geometry and Honors Algebra II. She continued to challenge herself through enrolling in Post-Secondary Education Option Program at the University of Cincinnati. In addition to skills and curriculum that align with being a nurse, Kaylynn has a kind, caring spirit that will be imperative to her success as a nurse. Her academic success, heart for others, and ability to lead and serve will make her a student who will positively contribute to any university."
Kaylynn plans to attend the University of Cincinnati to pursue her BSN in Nursing
Celeana Lee Lambing is a graduate of Clermont Northeastern High School and her Guidance Counselor is Callie Holtegel.
Celeana has been a member of the Varsity Tennis team for the past 3 years. She is also involved in the Marching Band, Acapella and Leo Clubs. She is a member of the National Honor Society and has served on the Prom Committee, Student Senate and has been on UC's Dean's list for the last 2 years. She has taken Honors Math, AP American History and difficult English and Psychology courses through the Post-Secondary Education Option Program. Celeana maintains a GPA of 3.947.
Celeana has become a leader among her peers and a role model for the young children in her community. She has a high interest in health care and wants to help others and make a difference in the community and the lives of others.
According to her guidance counselor Callie Holtegal, Celeana "truly pursues excellence, which is engrained in her hard-working, dedicated personality and demonstrated through her GPA and test scores. Celeana has the work ethic, tenacity and personality to success in whatever she chooses to do."
Celeana plans on attending the Ohio State University to major in Biology and then plans to attend graduate school to pursue a career in Orthodontistry.