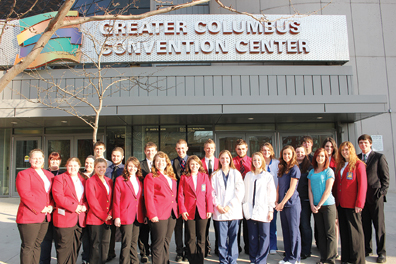 The 2014 SkillsUSA Ohio State Championships gathered nearly three-thousand members and advisors from career training programs throughout Ohio, including twenty-four members of the Grant Career Center SkillsUSA Chapter. The 62nd annual Skills Championship was held at the Columbus Convention Center in Columbus, April 15 and 16, 2014
The Ohio SkillsUSA Championships consist of 90 career and leadership competitions. Participants are challenged to complete a project in their career-training area within a specified time frame while being rated by a panel of judges from business, industry, and education. Gold medal winners will compete in the 50th Annual SkillsUSA Championships in Kansas City, Missouri, June 23-27, 2014, for National Honors.
The Biotechnology Team of Jessica Riley, Chloe Henderson and Emilie Shouse, all from Bethel Tate, placed first in Science, Math and Technology Career Pathways Showcase and earned a spot at the National Championship. Their project consisted of a research project and presentation about the differences in GMO products and Non GMO products. The team also created a display and a brochure to showcase their research results.
Senior Allied Health Science student Mariah Canter (Bethel-Tate) earned a silver medal in the Basic Health Care Skills competition. This competition challenged the student's basic levels of health knowledge and the skills of fundamental health care. Mariah's skills were evaluated through hands-on demonstrations, a written exam, an interview and a tabletop presentation of her skills.
Allied Health Science senior Jodi Seale (Felicity-Franklin) placed third in Health Occupations Professional Portfolio and brought back a Bronze Medal. Her project consisted of a professional portfolio featuring her competencies in health care skills both at school and in the workplace.
Metal Fabrication senior Jesse Miles, (Felicity-Franklin) also brought back a Bronze Medal in the Welding Sculpture Championship. His contest showcased his creative and artist talents as well as his welding and fabricating skills. Jesse created a dragon sculpture entirely out of metal parts that was quite stunning and caught the eye of many visitors to the competition.
Other students competing in events at the state level include: Gage Skillman, Collision Repair Technology, Auto Collision, (New Richmond); Christi Ludwick, Medical Math, Allied Health Science, (Bethel-Tate); Jon Frost, Automotive Technology, Automotive Service Technology, (New Richmond); Brook Arwine, Nurse Assisting, Allied Health Science, (Bethel-Tate); Alexandra Nissel, Cosmetology, (Bethel-Tate); Dalton Henderson, Related Technical Math, Engineering Design, (New Richmond); Kylie Sawyers, Job Skill Demonstration, Allied Health Science, (Bethel-Tate); Brookelyn Corbin, Medical Assisting, Allied Health Science, (Felicity-Franklin); the Health Career Pathways Showcase Team of Sarah Holman and Marissa Walls (Williamsburg), and Melissa Radcliff (New Richmond); and the Welding Fabrication Team of Braylin Knipp (Felicity-Franklin), Tyler Stevens and Antonio Davis (New Richmond), Traveling with the group were observers, Kennadie Cox, Lindsey Zeigler, Megan Noe and Jeffery Stevens (Bethel-Tate).