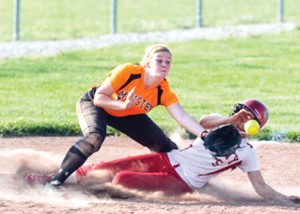 By Chris Chaney
Sun staff
If there was any recourse in losing in the regional semifinals for both the Bethel-Tate and Felicity-Franklin softball teams last week, it was knowing that both teams, by and large, will have the same roster returning next year to make another charge at a state title.
Bethel, playing in Division III, and Felicity, playing in Division IV, both saw their seasons come to an end during the middle of last week, one step shy of the regional final and three steps away from a state championship berth.
"The great thing about (losing) was that the girls were able to see the type of competition we face when we reach that level," Lady Tigers head coach Matt Weber said. "We only lose one senior — Liz Neal — so we're not losing too many players and (the rest of the team) has seen what it takes to go to the postseason and do pretty well."
The Lady Tigers were victims of a slow start in their DIII regional semifinal against North Union. Trailing from the second pitch of the game, North Union lead-off hitter Emily Clark hit a home run over the left field fence and her teammates added three more runs in the frame.
"Our pitcher missed her location by a little bit and they capitalized on it," Weber said. "After that, the girls were a little awestruck and we didn't play very well fundamentally. Any time you give a great team an opportunity like that, they take advantage of it."
The Lady Tigers got one run across in the sixth inning to give themselves another at bat, down 10-1, but couldn't muster any more postseason magic. Considering Bethel's 2-6 start to the season, a regional tournament berth was an accomplishment in and of itself, but Weber hopes that the chemistry, momentum and experience earned throughout the second-half of the regular season and into the postseason will pay dividends going forward.
"(The run) will be a great advantage because when you get to those games and have the long rides up to Dayton or wherever, they'll know the different atmosphere (they're entering)," Weber said. "The (change of scenery) allows the girls to get super focused and get really into the game. They understand that they can't recover from errors like normal when they get to that level and I'm hoping they'll carry that through to next year."
For the Lady Cardinals, they were the team getting off to the fast start in their DIV regional semifinal. A two-run first inning put Felicity up 2-0, but a disastrous third saw that lead evaporate and a sizable deficit emerge.
"We had the one bad inning," head coach Rob Wear. "They had nine hits, we had nine hits, but our hits were singles and theirs were doubles. They actually had three errors and we only had one, but you've got to give credit where credit's due. They're a good team."
The Minster lead ballooned to 10-2 in the fifth inning before ending at 11-6 with Felicity coming up short of a regional final appearance.
Adding insult to injury for the Lady Cards towards the end of the game was an actual injury to junior McKayla Jacobs. The short stop hurt her ankle sliding into home and had to be taken by ambulance to the hospital. Wear said that she has a plate in her foot and upwards of 10 screws.
Even still, he said, she's ready to get back out there next year, as are her teammates.
"As far as being a young team, I've got my fingers crossed that we'll have a strong freshman class coming in that can help build on this," Wear said. "The girls (coming back) by no means are ready to give up, so we'll be fine."
Jacobs, along with junior pitcher Sandy Woodmansee and classmates Allie Rodriguez, Bethany Perkins and Kaitlyn Clark will return as seniors to bring that leadership quality and sense of urgency to accomplish all they can before they have to hang up their red and white for good.