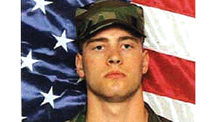 By Kristin Rover
Sun staff
Keith Maupin, the father of Staff Sergeant Matt Maupin, who was killed 10 years ago after he was captured while serving in Iraq, has returned home from meeting with officials in Washington D.C. about his son's killer.
Maupin said he was contacted about six weeks ago by officials from the Army Judge Advocate General's Office who said they had more information about the man who they believe killed Matt.
Keith Maupin said he was asked to come to Washington D.C. to speak with a judge from Iraq.
He said at first he was surprised to hear something about the man who killed Matt 10 years after his son was captured, but he said he learned that the man who confessed to killing his son has been in jail since 2009.
"They have to have a family member actually come forward to make the protest against this guy," Maupin said about the process.
He said he met with officials from the Army JAG office May 13 when he was in Washington D.C. and also talked with an Iraqi judge using video technology.
"We went through what happened in the convoy and what happened to Matt," Maupin said.
He said another family who lost a child was also part of the meeting.
Maupin said he believes they will use the information in the judicial process.
"They collected all of the information, and they are going to go back and set a trial date," Maupin said.
He said he will be notified of when the trial date is, but he said he has no desire to attend the trial.
"If he is convicted and sentenced to death it goes immediately to a panel of magistrates," Maupin said. "If he is found guilty a sentence will be imposed."
Maupin said he is not sure what the timeline will be for the case.
Before he met with officials, Maupin said he is not out for vengeance, and nothing is going to be able to bring his son back.
"To me it's about Matt's killer being taken to court," Maupin said. "This is proof that the Iraqi's are setting up their own system and are being held accountable."
Maupin said that when Matt was captured he told people that he wanted to help the Iraqi people. He said he hopes this case helps set an example in Iraq.
"We can't change what happened to our boys, but we can make it known this is why we went there," Maupin said about the case.
Maupin said this is the first time he knows of that an Iraqi has been charged with killing an American soldier and could be part of history.
"And if it is, Matt will truly not be forgotten," Maupin said.