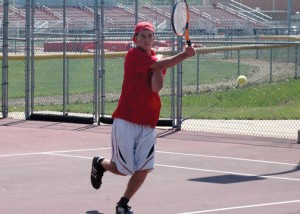 By Chris Chaney
Sun staff
A promising start to the season for the Goshen High School boys' tennis team faded down the stretch as Pete Patterson's squad was without some key contributors as the Southern Buckeye Conference race neared the finish line.
"We lost our third singles and another top player this week," Patterson said. "We're just not deep enough that we can lose two of our top-four players and survive tougher matches."
Prior to last week's four-match skid — which Patterson believes could have been the close to the opposite of that 0-4 record had his team been at full strength — the Warriors were 9-2 overall and 4-2 in the SBC with a shot at the league crown.
However, losses to New Richmond (May 5), Bethel-Tate (May 6 and 7) and Western Brown (May 8) have relegated Goshen back in the pack and sank their hopes of a league title.
"The league is pretty balanced," Patterson said of the SBC. "Western Brown has been strong again, but they're not as dominant as they have been in the past or how New Richmond was last year. Bethel has only lost about three and it goes down from there. I think the lowest record is Norwood and they're still pretty tough, so top-to-bottom, it's pretty balanced."
Despite the unfortunate turn of events that resulted in the late season fall off, the Warriors have played good tennis throughout the season.
Goshen's strongest and most consistent court has been the first singles team of Chris Treadway and Cole Hadley. The senior duo has gone perfect in non-tournament matches this season.
"Those guys are the best doubles team in the league," Patterson said. "They're essentially 15-0 this year and were 13-4 last year, so they've been 28-4 over the last two seasons. New Richmond had a doubles team that was better than them last season, so they were Second Team (All-Conference). They've continued to play well and even gotten much better this year compared to last year."
While the Treadway-Hadley court has guaranteed the Warriors at least one match each time out this season, the rest of the courts have been more sporadic.
Malachi Gierzak, a junior, has been the Warriors No. 1 singles player. Patterson said he has played well and his record doesn't reflect the caliber of tennis he has played this season.
Jimmy Price, Goshen's second singles player, similarly is playing among the best players the Warriors' opponents have had to offer. Patterson said his record is hovering around .500.
Joshua Steele, the Warriors third singles player, was a strong court for Goshen all season before he was forced out of action during the final week of the season.
The second doubles court has been more of a team by committee that includes Alec Hillman, Alex Wells, Andy Duncan and Jacob Cook.
The Warriors have one last chance to make some noise in 2014 when the sectional tournament kicks off on Thursday, May 15 at the ATP Tennis Center in Mason. A strong section, however, means that Goshen will have to turn in some upsets to advance.
"We're going in hopeful that we can win some matches, but we don't have any illusions that we'll go very far with the competition that's in there," Patterson explained. "Our first doubles team, I would look for them to win the first round, but then they have CHCA, which will be a real challenge."
Tennis gets underway on Thursday at 8 a.m. and will continue until dark or completion or completion of the semi-finals round.
For full sectional tournament brackets, log on to swdab.org.