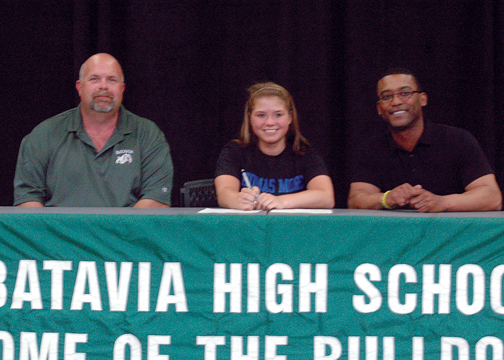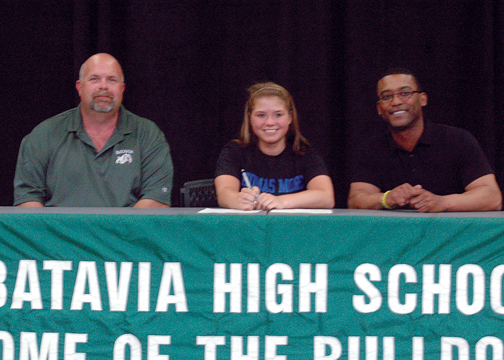 By Chris Chaney
Sun staff
Batavia High School announced that senior softball player Briana Appel will continue her education and athletic career at Thomas More College in Crestview Hills, Ky next fall.
The Lady Bulldogs' standout catcher said her decision to attend Thomas had more to do with her educational goals than athletics or proximity to home.
"(The decision) was mainly based on education and the really good nursing program that they have there," Appel said. "That was a big reason why I decided to go there and there softball program is awesome, so it was a given."
The senior, who plays her travel ball for the Cincy Doom 18U Elite, was planning to attend Lake Erie College in Painesville, Ohio up until the beginning of May when she had a change of heart.
Always planning on studying nursing regardless of which school she attended, Appel said that the exceptional nursing program at Thomas More was the main factor in her decision to change schools. Her relationship with the Saints' head softball coach, Lindsay Bramhall, was also an important aspect that drew her to a school closer to home.
"(Coach Bramhall) is awesome," Appel said. "She's been recruiting me since about August. She's been calling and texting me since then. The program is really strong and she's a good coach, really nice."
Bramhall just completed her sixth year at the helm of the Saints' softball program. Thomas More has a 164-92 record under her leadership. The team has won three Presidents' Athletic Conference regular season championships and three PAC Tournament Championships during her tenure. They have also appeared in three NCAA Division III Tournaments.
Appel is no stranger to success having been selected to the Southern Buckeye Conference All-Conference Team her freshman and sophomore seasons. She was named the team's Defensive Player of the Year as a freshman and junior as well as being named the Lady Bulldogs' Offensive Player of the Year as a sophomore.
Appel is on track to rack up even more accolades during her senior year. She is among the top-5 in the area in batting average among those who have had at least 25 plate appearances, hitting at a .661 clip. She has hit three home runs, knocked in 32, scored 14 and recorded three triples and nine doubles.
"I hit really well," Appel said. "I'm leading our team in batting average and RBI. I'm a good hitter and I like to think I'm a pretty good catcher as well."
Appel plans to add some depth to the Thomas More catching rotation as soon as she steps on campus as well as giving the Saints another reliable bat.
As for immediate plans, Appel suited up for the Lady Bulldogs' first-round sectional tournament game on May 13 against Wyoming and if they won, she will play again on May 15 in a sectional semifinal.