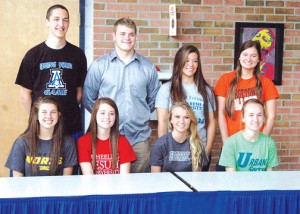 By Chris Chaney
Sun staff
Amelia High School held their year-end athletic signing ceremony on Thursday, May 1 to recognize eight student-athletes who have either signed National Letters of Intent or committed to play at Division III institutions.
The gathering was especially meaningful for Amelia Athletic Director and Dean of Students, James Collins, who called the yearly celebration the most meaningful thing he does all year.
"To the kids, I've loved watching you play," Collins said to open the ceremony. "I know it was the very best part of my day. Don't be a stranger.
"I'd also like to thank the families today for taking time out of your busy days to come and help us celebrate this. This is truly a celebration.
"I want to thank all of you (athletes) for what you've done for the school and more importantly, yourselves."
The eight student-athletes honored included five from the girls' soccer team, an Amelia record. The Amelia girls' soccer program, led by the senior class, became the first girls' athletic program in the school's history to win a conference championship each year they were enrolled.
Perhaps even more impressive was the fact that the Lady Barons did not lose a single Southern Buckeye Conference game in their four years, tallying a record in conference of 35-0-5.
The soccer players were Madison Terry, Allison McDaniel, Rachel Robb, Brittany Bryer and Courtney Tackett.
Tommy Hacker, a basketball player, Cohen Canter, a football player, and Jenny Wilson, a cross country runner, rounded out those in attendance.
Beginning with the five girls' soccer players, the senior class, which combined for a 47-16-8 record over their four years, will be attending five different schools.
Terry, a three-sport athlete at Amelia, will be continuing her education and soccer career at Northern Kentucky University. The 2013-14 SBC-American Player of the Year was also a First Team selection during her sophomore and junior campaigns and a Second Team pick her freshman year.
Terry played all over the field, but spent most of her time as a midfielder and defender. Even still, she scored 10 goals and assisted on two more her senior season.
McDaniel, a two-time First Team All-SBC performer and a Second Team selection her sophomore year, will play her college soccer at Wheeling Jesuit University in Wheeling, W. Va. McDaniel, a midfielder and forward, scored five times her senior year and assisted on 10 more.
Robb, a Second Team All-SBC selection her senior year, will continue her education and playing career at Cincinnati Christian University. Robb was a midfielder and forward. She scored three goals and assisted on eight others last season.
Bryer, a First Team All-SBC performer her senior year, will play her college soccer at Urbana University in Urbana, Ohio. A forward and the Lady Barons' most potent offensive threat, she scored 15 goals during her senior campaign and tacked on one assist.
Lastly, Tackett, a two-time SBC First Team All-Star, will be attending Mt. Vernon Nazarene University in Mt. Vernon, Ohio next fall. A strong defender while at Amelia, she will play for Daniel Seiffert at MVNU.
Hacker, the lone Barons hoopster to be honored at the ceremony, will play his college ball at Capital University in Columbus, Ohio. Hacker was a two-time SBC-American Player of the Year and a three-time First Team All-League selection. The 6-foot-6 center led the Barons to a 19-4 mark his senior season and was a key component on Amelia's back-to-back league champion squads. He averaged 15.0 points, 6.5 rebounds, 1.4 assists and 1.0 steal per game.
Canter, a running back and defensive end for head coach Randy Hospelhorn's Barons, will play his college football at Siena Heights University in Adrian, Mich. Canter earned First Team All-Conference honors following both his junior and senior seasons.
In his last season wearing blue and white, Canter led the team in rushing, carrying the ball 45 times for 274 yards and three touchdowns.
He also caught six passes for 90 yards and three more scores. On defense, Canter accounted for eight sacks, 42 solo tackles and assisted on five others. He forced two fumbles as well.
Finally, Wilson, a cross country standout, will continue her schooling and running at Georgetown College in Georgetown, Ky.
Wilson will run under head coach Todd McDaniel who will be in his fifth season next fall.