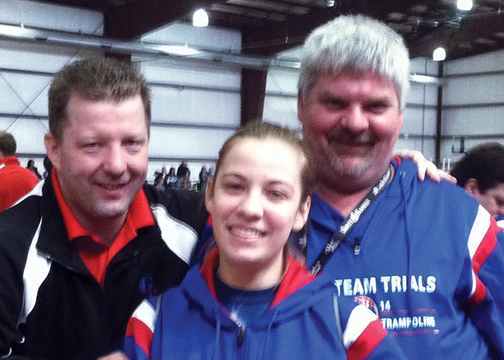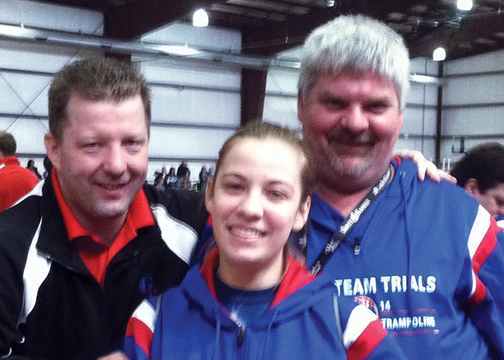 Gymnastics Central Tumbling and Trampoline athlete, Kaitlyn Bein, has earned a spot on the USTA National Team taking Cincinnati competitive tumbling to a national level. The team was announced on Sunday, March 16th in Hammond, IN, which was the last of 3 team trial meets.
Eight years ago Kaitlyn began competing at the Sub Beginner level on the Gymnastics Central T&T team in Newtown. Now, at age 15 and an Elite level competitor, she has become the only Ohio athlete to land a spot on the 2014-2016 National Team and the first ever from Gymnastics Central to qualify. And Kaitlyn doesn't intend to be the last, saying, "When I was about 9 I saw one of the National Team members compete, and I thought, 'I want to be like her'. I hope to inspire the younger tumblers in the same way."
Competitors vying for a place on the team attend 3 team trial meets and compete in 3 events; rod floor (power tumbling), double-mini trampoline, and trampoline. They are given scores according to their placements on each event and ranked accordingly. The National Team consists of the country's top 26 ranked female athletes and top 10 ranked male athletes. Being the best of the best, the team will serve as USTA representatives, travel to Las Vegas, NV for training, and perform exhibitions at the USTA Nationals meets.
"It's an honor to be part of a team of top athletes and to see my hard work pay off".
Kaitlyn, an Honor Roll student at Williamsburg High School plans to continue to tumble competitively in college and study sports psychology.
Gymnastics Central, 8485 Broadwell Rd, Cincinnati, OH 45244, offers competitive and recreational gymnastics and tumbling for all ages and skill levels.