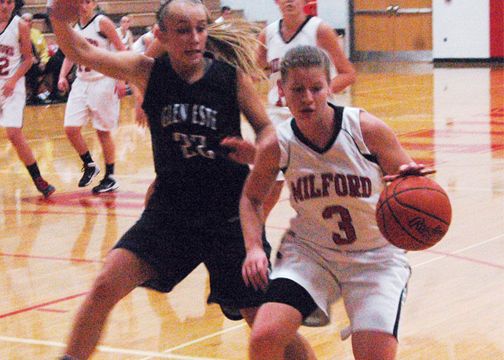 Eight local girls hoops standouts were honored by the Eastern Cincinnati Conference following the 2013-14 season by being named to the league's postseason honor roll.
The Milford Lady Eagles, coming off of a season that saw the red and white rack up a 14-10 overall record, placed a pair of seniors on the All-Conference First Team.
Leading the way was 5-foot-4 point guard Bridget Rheude. The Lady Eagles' floor general returned to action her senior season after rehabbing from a torn ACL that kept her sidelined her junior season.
"Bridget could not come off the floor for us," head coach Kristi McKenney said of her senior leader. "She does so many little things — whether she has zero points or nine points — she controls the game for us.
"She (was) the heart and soul of our team, really."
Rheude was a stat line stuffer for Milford, averaging 7.8 points per game, 3.8 assists, 2.5 rebounds and 2.2 steals per ball game. Her biggest offensive output came in a Jan. 22 20-point win over Loveland when she scored a season-high 18 points, dished out four assists, grabbed a pair of rebounds and had two steals.
As her coach alluded to, Rheude was a factor in all 24 of Milford's games and had an even bigger impact than the stat sheet would indicate.
Joining Rheude on the First Team was classmate Brooke McDonald. The inside ying to Rheude's perimeter yang, McDonald manned the middle for the Lady Eagles, averaging a team-high 11.7 points and 8.4 rebounds per game.
The 6-foot senior shot 42.1 percent from the field and sank nearly 71 percent of her foul shots.
McDonald scored in double figures in 13 games throughout the season, topped off by a 20-point performance in a 57-49 win over McNicholas at the end of November. Playing well down the stretch of her career, McDonald scored 14 or more points in each of the last six regular season games.
Also joining the seniors on the postseason lists were a pair of Second Team sophomores in Taylor Foster and Kelly Noll.
Noll, like Rheude, averaged 7.8 points per game, which was second-best on the squad. The 5-foot-9 swing guard also averaged 4.0 rebounds, 2.7 assists and 1.4 steals per game.
Foster, coming in just behind Rheude and Noll, averaged 5.9 points, 3.8 rebounds, 1.4 assists and 1.5 steals per night.
Senior Shayna Simmons was an All-Conference Honorable Mention for her 4.3 points and 4.1 boards per game average during her last season at Milford.
For Glen Este, the Lady Trojans' highest honor went to sophomore Kelly Simon. The 5-foot-7 guard led the Lady Trojans in scoring and steals with 11.7 and 2.5 per game, respectively. She also grabbed 4.8 rebounds and handed out an assist per game.
Simon's best offensive output came in a 66-61 loss to Walnut Hills when the super sophomore scored a season-high 22 points. She also grabbed nine rebounds and racked up four steals.
Joining Simon on the honor roll was Second Team selection Ashley Keith and Honorable Mention Payton Funk.
Keith, a 5-foot-5 senior guard, averaged 7.0 points, 3.0 rebounds, 1.3 assists and 1.3 steals per game. Funk, a 5-foot-4 sophomore guard, averaged 6.4 points, 1.9 rebounds, 1.7 assists and 1.5 steals per game.
For the full list of ECC All-Stars, log onto the conference's website at eccsports.com.