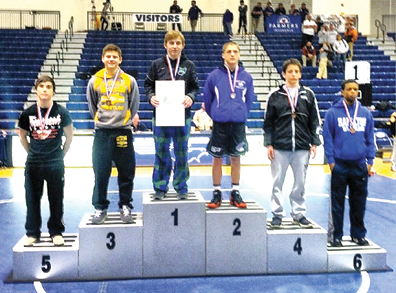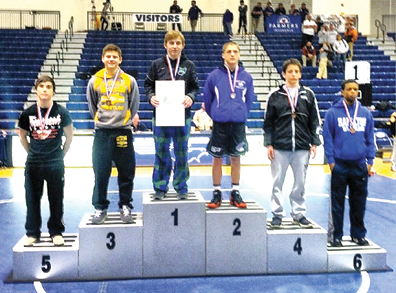 By Chris Chaney
Sun staff
A strong showing from Clermont County grapplers in the sectional tournament manifested itself in over 40 individuals, including four sectional champions, advancing to the district this past weekend. However, the further north the wrestlers go, the more difficult the task becomes.
Only Glen Este's Gage Branson and Bethel-Tate's Aric Peters, sectional champions both, were able to keep the dream of gracing the podium at The Jerome Schottenstein Center alive.
Branson, a junior wrestling at 113 pounds, worked his way up from the bottom of weight class bracket by dominating Brendan Gibson of Wayne (15-0) and outlasting Blake Biteman of Tecumseh and Sam Roth of Lakota East (4-3) to reach the district final against Patrick Kearney of Mason, which he lost 3-2.
Branson's path to the district final, and eventually state, was paved early on with blood, sweat and tears.
"He's been wrestling since he was about four years old," Glen Este head coach Chris Redmond said. "He's so dedicated. He wrestles in the spring and the summer and has been hammering hard for the past few years. He was an All-American over the summer two years ago.
"Last year was pretty devastating because it looked like he was going to qualify last year and just had a bad district tournament and did not make it, so we were really pulling for him this year. I even had a lot of coaches (from other schools) saying how happy they were that he made it this year."
It was almost heartbreak again for Branson when he showed up for day two at Kettering Fairmont on Saturday, Feb. 22.
"(Branson) got called for a skin check on the second day, which personally I think is ridiculous," Redmond said. "He had his skin check on Friday and then they did another skin check Saturday. (Branson) got called on a dry spot of skin on his back and they told him he wasn't wrestling.
"We appealed it and talked to the tournament director and he ended up getting in on it, but it was one of those fluke things. He was looking to go (to state) this year and we thought he was going to get held back for something silly like that. He puts in a ton of time on the mats all the time and in the offseason, so it was really good to see him make it through."
Joining his Division I counterpart in Columbus is Bethel-Tate's Aric Peters wrestling in Division III. The 120-pound sectional champion made a beeline for a district championship, but came up just short in the district final.
"(Peters) had a pretty good draw at districts," Bethel-Tate coach Tom Donahue said. "We're hoping he can be atop that podium (next) week, but he'll have to have his 'A' game."
Peters seems to be peaking at the right time. Moving through the district at Hobart Arena in Troy, the junior pinned his first-round opponent, Peyton Ford of Spencerville in 3:15, beat Chaminade-Julienne's McKinley Screetch by 9-1 major decision in the second round and took down Wayne Trace's Ruger Goeltzenleuchter 10-3 in the district semifinal to solidify his trip to Columbus this week.
Peters wrestled Dayton Christian's Michael May in the district final, coming up just short, 13-11, in a high-scoring match.
Peters, who has come up just shy of state each of the last two years, finishing in fifth place as a freshman and a sophomore will make his first appearance at the state tournament this weekend.
Both Branson and Peters will begin their state title runs in earnest on Thursday morning, Feb. 27 with weigh-ins taking place before noon. The championship preliminaries will begin at 3 p.m. for Peters in Division III and approximately 5:40 p.m. for Branson in Division I.
The quarterfinals and semifinals will take place Friday, Feb. 28 with third, fifth and seventh place matches taking place Saturday, March 1 in the morning session and the state title matches taking place later that evening beginning at 5:45 p.m.
For more information on the state tournament, log on to the Ohio High School Athletic Association's website, ohsaa.org.