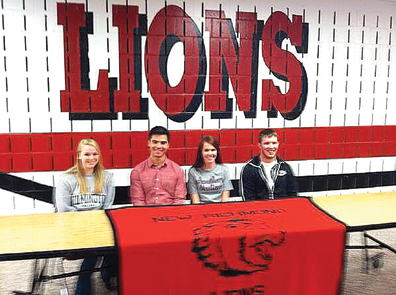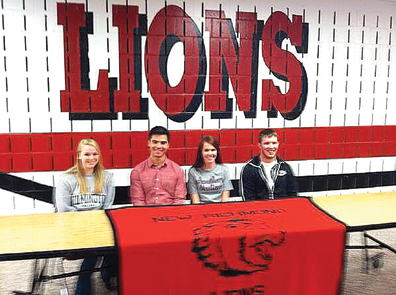 By Chris Chaney
Sun staff
New Richmond High School announced six student-athletes have signed National Letters of Intent or committed to continue their athletic and academic careers at the next level as the signing period opened on Feb. 5 for football, soccer, track and field and cross country.
The Lion contingent included three soccer signees and three track athletes, one of whom will also be playing volleyball at the next level.
Among the three soccer signees were two boys' team members, Tyler Klein and Colton Farmer.
Klein, a midfielder and forward, has committed to play his college soccer at Cincinnati Christian University in Cincinnati, Ohio. Klein was a two-time Southern Buckeye Conference First Team All-Star and scored nine goals and assisted on 15 others during his senior season.
Farmer, a defender on the Lions' 11-4-3 squad, committed to play his college soccer at Spaulding University in Louisville, Ky. A First Team All-SBC selection his senior season, Farmer scored five goals and added five more assists during the 2013 campaign.
The lone Lady Lion soccer player to sign during the regular signing period was midfielder Emily Barcheski who inked her NLI with Southern Indiana University in Evansville, Ind.
Barcheski was named a First Team All-SBC performer her senior season after scoring nine goals and assisting on 13 others to claim 31 points, third best on the team. She was top-15 in the city in shots on goal with 41.
On the track, a trio of Lions — Eleanor Wildey, Branston Evans and Olivia Beyhmer — will move on to the next level.
Wildey, a discus thrower, will continue her academic and athletic career at Wilmington College in Wilmington, Ohio. She was a district champion and finished in a tie for fourth place at the regional meet en route to a Second Team All-SBC selection. Wildey also was a First Team All-SBC volleyball player. She will play volleyball as well for the Quakers.
Evans, also a thrower, will accompany Wildey to Wilmington. Evans was the district runner-up in the discus and a 13th place finisher in the shot put. He finished in fifth place in the discus in the regional meet. Evans was a Second Team All-SBC selection.
Behymer, a two-time Runner of the Year in the SBC, signed a National Letter of Intent to attend Liberty University in Lynchburg, Va. Aside from being a three-time First Team All-SBC selection, Behymer has been a two-time podium finisher in the Division II state track meet finishing in 6th place in the 400 meter run in 2011 and in fifth place in 2013.
Signing pictures and videos are available on the Athletics page on nrschools.org.