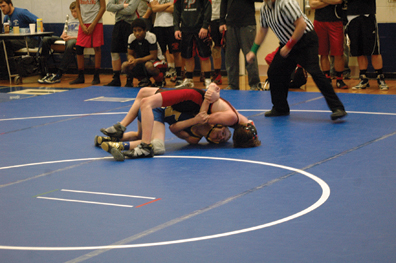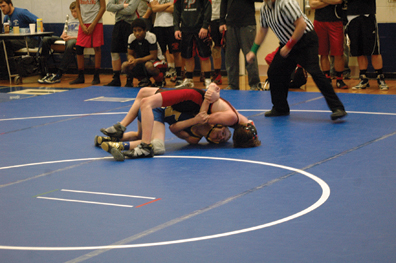 By Chris Chaney
Sun staff
An up-and-down season for the Clermont Northeastern Rockets is starting to level out and head coach Scott Wells has been encouraged by the improvement and dedication those within the program are showing.
"We have 13 wrestlers overall on the team and seven of those are seniors," Wells said. "When we're in the practice room with all seven seniors, their experience has come in handy and everyone is starting to pick it up. Things are really starting to click now."
After a bumpy start to the season in which Wells said 11 wrestlers quit, things have evened out and getting into the dual season, he has a group that are willing to work hard and represent CNE the right way.
The Rockets opened their season at Williamsburg's Bob Guy Invitational, finishing in seventh place as a team and placing five wrestlers. Following a few tri and dual matches to end the calendar year, CNE took part in the two-day Madeira Invitational on Jan. 3 and 4, finishing in 15th place as a team and placing two individuals.
The two placing individuals at Madeira — Seth Chambers and Logan Krebs — are two of the three leaders on Wells' team with the other being senior Josh Forkner.
"(Chambers) has been wrestling well," Wells said. "He has placed second in each of the last two tournaments that we've been in. He's done well in the dual meets and he's coming along well.
"At 132, we have one of our main contributors in Krebs. He wrestles really tough. He's picked it up in practice and is carrying it over to the tournaments. He's been doing very well and getting us a lot of points in our dual meets.
"And at 182, Josh Forkner has been a consistent placer in all but one tournament. He's wrestling so well and he's so coachable. He's not content being where he's at."
Kaden Brown and Dylan Creager are other seniors who have stepped up and helped to make the team better in the practice room and on the tournament mats.
The Rockets' best performance to date came just this past weekend at the Charlie Moore Invitational hosted by Reading High School.
"Out of our 10 wrestlers that went, every one placed except for two," Wells said. "That was a big plus. It was the first time this season that we had a bunch of placers. Usually we have a few here or there, but we really came on. Things are really starting to pick up and I'm hoping we can carry that over to the state dual season where we can get a win or two."
The Rockets finished sixth overall as a team. Chambers at 113, Brown at 120, Bryce Gott at 126, Krebs at 132, Creager at 152, Jordan Stanforth at 160, Forkner at 182 and Brandon Stahl at 195 all placed.
CNE is wrestling their best as the season winds down, just like Wells and his staff have been trying to prepare them.
"The coaches and I are trying get these guys to peak at the right time at the end of the season," he said. "We seem to be on the right track with the obstacles that we've overcome to wrestle our best at the right time."
With Chambers and Forkner as the only two returning district qualifiers, Wells said he believes six or seven of his wrestlers can compete for Southern Buckeye Conference titles as well as have an opportunity to move on.
The one difference in this year's postseason will be that CNE will be wrestling in the Division III tournament for the first time in Wells' nine year career.
"Sectionals and districts, we've always been Division II," Wells explained, "and we just dropped to Division III, so I'm unfamiliar with the teams (we will be wrestling).
"I'm doing my work to make sure I'm familiar with the kids and the teams that are in our sectional so I can put together the best lineup and put our guys in the best lineups to make the farthest runs."
The Rockets will have some warm up matches before conference and sectional matches get under way in early February. The next match for CNE will be Thursday, Jan. 16 in a tri-match at Goshen.