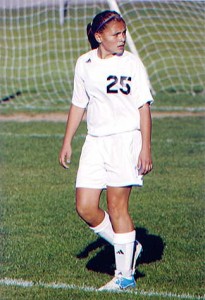 Glen Este junior defender Makenna Lavatori was recently named to the girls' high school Southwest Ohio All-District soccer team for 2013, after helping lead her team to its best record in many years.
"Having her back there was almost like having a coach out on the field," GE coaches Kelly Goedde and Ted Wittwer said.
"When we would go over things to watch for before a game, she would always say 'I got you' and we would just know that things would be under control.
"She has a wonderful attitude and was a great leader on the team."
Makenna began playing soccer at age eight and her club team, Kings Hammer, has finished second in the national tournament each of the past two years.
An excellent student, she carries a 3.90 GPA and plans to study either pharmacy or sports medicine at Morehead State University, having already committed to play for the Eagles prior to her junior year at GE.
As for this year, Makenna says "It was the most fun ever at Glen Este, and I really learned a lot from our coaches."
Being new to the program, one of the first priorities of the coaches was to get every player in the right position to have the best opportunity to be successful and to help the team.
From day one that process began with Makenna Lavatori playing in the middle of the back line, a spot she filled for the full eighty minutes in virtually every game of the season.