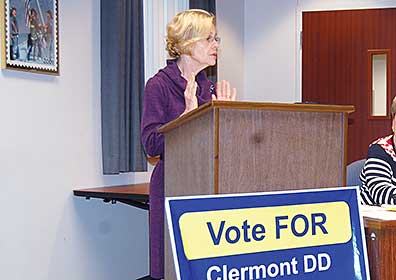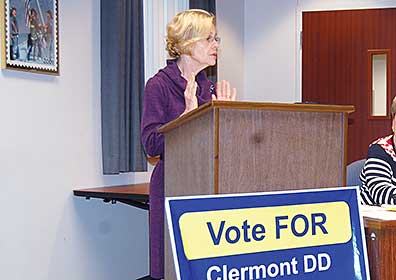 By Kristin Rover
Sun staff
Sharon Woodrow, superintendent of Clermont County Board of Developmental Disabilities, presented information about the agency's .75 mill renewal levy during the Oct. 23 commissioners meeting.
"We provide so many services to children, adults and families," Woodrow said. "We certainly want to be able to continue to do that."
Woodrow said they provide a variety of programs including residential services, programs to help adults with disabilities get a job, early childhood programs, and more.
"We are very proud of the people we serve and those who help us," Woodrow said.
Woodrow said they are currently serving 50 percent more individuals with disabilities than they did in 2008. In addition, she said they are receiving more inquiries for services.
"We certainly know there is a huge need and we are able to serve it better with these dollars," Woodrow said.
Commissioner David Uible asked Woodrow about their funding sources.
Woodrow said about 40 percent of their funds come from state and federal funding sources. She said 60 percent of their funds come from levy monies.
"We do everything we can to expand our partnerships," Woodrow said about working with other county organizations. "We feel we are being very careful with our money."
Woodrow stressed that the .75 mill levy that will be on the November ballot is a renewal levy.
"There is no increase," Woodrow said. "It won't cost additional money."
Clermont County Commissioner Bob Proud said he has seen how the services have impacted the community.
"I know for a fact that people move into this county because of the services we provide," Proud said. "We encourage everyone, again, to support the levy."