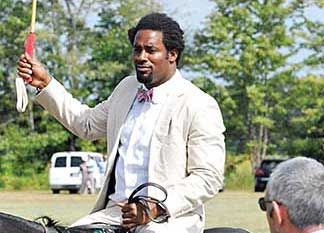 By Chris Chaney
Sun staff
We already knew that the Greater Cincinnati Area was "big on the Pig," as in the Flying Pig Marathon, but on Sept. 15, the Cincinnati Polo Club teamed up with former Cincinnati Bengal Dhani Jones' charity, BowTie Foundation to put on the first annual Galloping Pig.
On the surface, polo and football don't seem to be a very logical match. However, through Jones' unique worldview and experiences — especially those he encountered on his Travel Channel series "Dhani Tackles the Globe" — and the Cincinnati Polo Club's affection for charitable causes, The Galloping Pig came to be.
"Basically, Dhani Jones contacted us and told us he would like to put on a polo match (to benefit his foundation)," CPC President Keith Potter said. "On his show, he had seen some polo and liked it. (The BowTie Foundation) event planners contacted us and asked if we'd do it and we told them, 'sure, that's what we're all about.' We told them we would have our field ready in late August, early September, so that's what we did."
The BowTie Foundation is a local community fund that supports underprivileged youth. The polo event, which featured a match between the Cincinnati Polo Club and the Columbus Polo Club, traditional divot stomping, time to pet the horses, meet the players, hit some balls and learn about polo, specifically benefitted Breakthrough Cincinnati, a collaboration with the Cincinnati Art Museum to give motivated urban middle school students a new way to learn, create and experience art.
For the CPC, the event was the first time the club was able to play a full-length game on their newly planted field at Wilshire Farms in Goshen.
"It was the debut of our outdoor field," Potter explained. "We had a little game the week before, but this was our first real game out in Goshen and we were thrilled to death with the field — it played well — and the (turnout); we guesstimated there was anywhere between 500-600 people."
The event offered a variety of ways for fans to enjoy polo, many of whom had their inaugural introduction to the sport. The CPC in conjunction with the BowTie Foundation offered VIP tickets, which included roundtrip coach transportation from downtown Cincinnati, a private tent and grandstand, all-you-can-eat Eli's BBQ, and fully stocked bar; drive-in tickets that allowed patrons a 10'x15' space alongside the polo field; and general admission tickets that allowed attendees to bring lawn chairs.
Members of the military, police and firefighters and rescue were admitted free of charge.
The Kentucky Struts, an alternative country rock band from Cold Spring, Ky. also performed during the days' activities.
"It was a great event," Potter said. "The Cincinnati Club played Columbus and we eneded up winning 6-4, so that was a great victory in hard-fought game.
"This (event) was what the Cincinnati Polo Club is all about. We'll put on games and we want the crowds to come. Any time a charity contacts us, we're always happy to put on a show to raise money for a worthwhile benefits."
The Club is always looking to put on events and is even open to sponsorship opportunities in which the club members will wear customized jerseys and saddle blankets, along with private tents and privileges.
With the club's new field coming in nicely this year, the CPC will have a full schedule of games next season in which they will play half their games at home in Goshen and half on the road in the surrounding cities with clubs, such as Columbus, Lexington, Louisville and Indianapolis.
The CPC will also hold its final "Learn to Play Polo" clinic of the season on Oct. 12 at Wilshire Farms for all comers, ages 14 and up. The price is $80, which includes the lease of horse, or $55 with the use of your own horse.
The clinics feature an introduction to the rules, foot mallet exercises, mounted sessions and swing basics taught by Kit Collins, an internationally recognized polo swing analysis expert and instructor.
For more information on the Galloping Pig, visit TheGallopingPig.com and for more on the Cincinnati Polo Club, visit CincinnatiPoloClub.com.