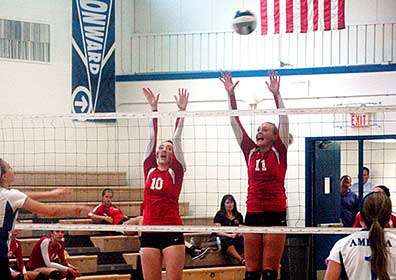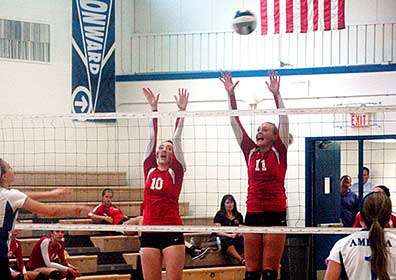 By Chris Chaney
Sun staff
Playing in one of the deepest and most competitive conferences Southwestern Ohio, the Milford Lady Eagles will have a tall order to fill if they would like to claim their first Eastern Cincinnati Conference title, but a well-rounded group of like-minded individuals have head coach Lauren Cooper optimistic about the team's potential.
"The team is very well bonded this year," Cooper said. "We're able to focus on things more volleyball related (rather) than outside drama.
"They've played really well together so far. We pride ourselves on our enthusiasm and how excited we get, so we're really working on that. The unity that we have this year is phenomenal, it's nice to focus to volleyball related things."
The reason for the Lady Eagles close-knit group mentality begins with the four seniors on the roster. Co-captains Madison Taggart and Jessica Winstel have taken the reigns as the leaders on the floor for Cooper's squad.
"(Taggart) is a middle and a middle back and she has really stepped up as the leader on the floor," Cooper said. "Then our libero (Winstel), picks up everything in the back for us, she pretty much runs the back court, which is really nice."
The other two seniors, setter Hannah Diercks and outside hitter Rachel Greene, play a big role as well. Diercks' role is amplified by the formation Cooper runs. Playing a 5-1, Diercks is racing all over the court to get to the second ball and has been making good decisions on her sets. Greene has been a big contributor as a scoring threat, placing and spiking the ball when the Lady Eagles need it most.
Those seniors have helped keep an even keel amongst the younger players and a positive outlook with three of the four on the floor for pretty much every point.
Those upperclassmen have prepared the entire team for this season going as far back as the end of the last season. Cooper said that the team has been working out and pushing themselves every day, saying that there is no stopping point in terms of when someone has done enough work.
"Their drive and passion to play and work as a team has gotten us to where we are," Cooper said.
Currently at 7-2 overall and 2-1 in the ECC, the Lady Eagles are one game back of league-leading Kings and one of four teams within that one-game window. The parity that exists in the ECC is something that Cooper believes will help her team as the season grows older.
"The ECC is so competitive, I couldn't tell you who a top team would be because every team is always up for it," she said. "I think we have a good bond with the other teams, but we have a rivalry with each team, too and I think all the teams in our conference are phenomenal and it's anyone's game any given day."
With such a tightly bunched group towards the top of the ECC that include the aforementioned Kings and fellow Clermont County resident, Glen Este — both of whom the Lady Eagles will face this week — the onus on showing up to play every night is paramount. However, Cooper and her team have a unique outlook on how to deal with that responsibility.
"One of our big goals is to not feel any pressure," she said. "We have a quote we always say: 'pressure is what you feel when you don't know what you're doing,' so our goal is to realize that this is what we've practiced for and we know what we're doing.
"We want to be competitive everyday with our ECC teams and everyone's ultimate goal is to win that conference championship; it's been a long time since Milford's been there, so I tell them everyday to never underestimate that goal and we need to keep working hard."
The Lady Eagles will try to continue their realization of their goals with two big games this week against Kings (9/10) and Glen Este (9/12), both of which the Lady Eagles will have the home court advantage.