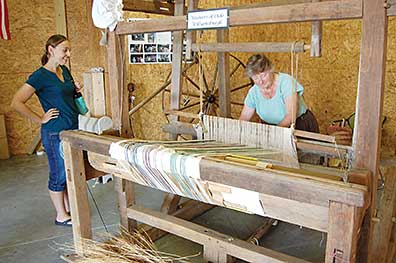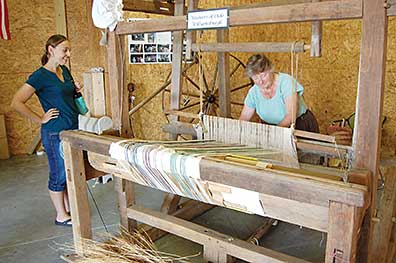 By Kristin Rover
Sun staff
Community members in Williamsburg had a special birthday celebration Aug. 8 in honor of Major General William Lytle, the founder of the village.
"We are celebrating Major General William Lytle's 243 birthday," Julia Hess, a member of the Williamsburg Harmony Hill Association, said during the event.
The celebration was held at Harmony Hill Museum in the village and included tours of the museum, cake and refreshments, and a performance by the Williamsburg Community Band.
Hess said Lytle founded Williamsburg in 1796 and is also known as "The Father of Clermont County."
"This was his homestead, which he named Harmony Hill," Hess said about the property in the village.
Hess said Lytle lived from 1780-1833.
Much of his history, as well as the history of the village of Williamsburg is highlighted at the Harmony Hill Museum.
"The museum is devoted to William Lytle and Williamsburg," Izella Cadwallader, also a member of the association, said. "Everything has been donated."
The museum features photographs, documents, furniture, and other artifacts from throughout the village's history, including photographs about Lytle and his life.
Cadwallader said the Williamsburg Harmony Hill Association was created to preserve a historic dairy house on the Harmony Hill Property.
She said the dairy house was historically preserved and placed on the National Register of Historic Places in 2000.
"We purchased the property and established the museum," Cadwallader said.
Cadwallader said they have educational activities for children at the museum as well as the carriage house on the property.
She said they also host informational programs and events at Harmony Hill throughout the year.
Robert and Kristine Brookover, and their son Silas, 7, came to the Major General William Lytle birthday celebration Aug. 8.
"We like history," Robert Brookover said about why they decided to come.
He said they have always heard about the dairy house and Harmony Hill and wanted to come check it out.
"It was pretty neat," Robert Brookover said.
For more information about Harmony Hill Dairy House and Museum call (513) 724-7824 or visit the organization's Facebook page at www.facebook.com/HarmonyHillDairyHouseMuseum.