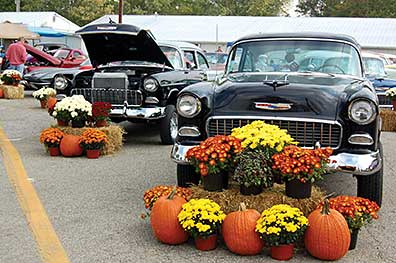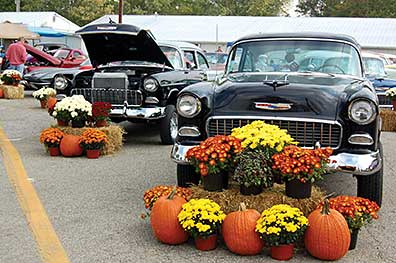 By Art Hunter
Editor
The Clermont County Fairgrounds will be filled to capacity the weekend of Oct. 4 – 6 with classic automobile enthusiasts, their families, and their vintage cars and trucks for the region's premier car show.
The Pumpkin Run Nationals, the largest car show in southwest Ohio, has drawn as many as 3,000 vintage automobiles from the local area, the region, and from as far away as Florida and Canada.
This year's Pumpkin Run Nationals will be featured on the "My Classic Car" television show, which appears on the Fox Sports 1 and MAVTV cable networks. Show host Dennis Gage will be on the fairgrounds filming for the show Friday and Saturday.
Fastiques board member Tanya Beaumont says has been working on getting Gage to the Pumpkin Run for several years.
"I've been requesting that Gage come to our show for several years now," Beaumont said. "He's done some of the biggest shows ever. Car enthusiasts are really familiar with his program."
The Pumpkin Run Nationals is the signature event of the Fastiques Rod and Custom car club, based in Owensville. But while the Pumpkin Run Nationals is the region's largest car show, it is also a family-friendly event, with something for every member of the family.
"We have a little bit of something for everybody," Fastiques president Dan Gavey said. "We've got about 2,600 vintage cars, things for the kids, crafts for the ladies, and we've got lots of food."
There will be live music, a dance contest and social dances, and church services will be held Sunday morning.
There will be plenty of great food, from hot dogs and hamburgers to pulled pork and much more.
Proceeds from the Pumpkin Run are always donated to charity. Each year, the club donates $50,000 to Shriners Burns Hospital for Children and makes additional contributions to other charities, such as St. Rita's School for the Deaf and the Clermont County Homeless Shelter.
In the 37 years that the event has been held, the club has donated approximately $800,000 to Shriner's Burns Hospital alone.
On Friday, the show car gate opens at 6:30 a.m. and the show closes at 11 p.m. On Saturday the show car gate opens at 8 a.m. and the show closes at midnight. The show car gate opens at 8 a.m. Sunday and the show closes at 3 p.m.
Admission to the Pumpkin Run Nationals is also family-friendly, with adult tickets only $5 and children under 12 free. A three-day pass is only $12.
For more information, visit www.pumpkinrunnationals.com.