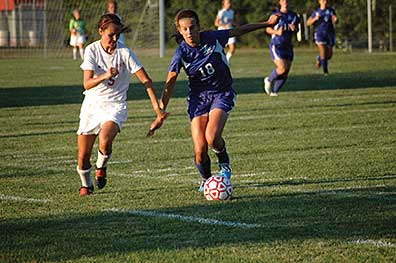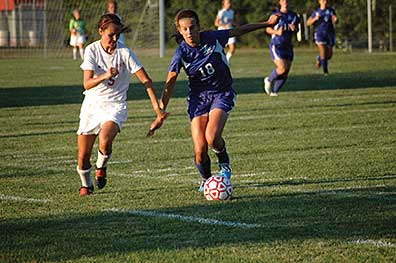 By Chris Chaney
Sun staff
The girls' soccer scene in Clermont County is one of the most highly competitive in the area with perennial top squads always having different opponents competing for their crown. In 2013, that expectation should hold true as programs in both the Southern Buckeye Conference and the Eastern Cincinnati Conference refuel with their eyes set on lofty goals.
At the top of the pack in Clermont County are the Lady Eagles of Milford, one of the premier programs in Southwestern Ohio. Headed up by head coach Pat Winkler in his eighth season at the helm, the Lady Eagles bring back an experienced group that should have them vying for a second straight ECC title.
"We're a very senior-heavy team," Winkler said. "We have 10 seniors that were all varsity players last year, so right from the get go, you know you're going to have some good leadership and experience coming back.
"We're certainly going to utilize those seniors in many different capacities and different roles to keep the team on track."
Despite the strong returning presence overall, a good portion of the Lady Eagles' offensive output from a year ago was lost to graduation. And while Milford does not lack for talent, Winkler doesn't foresee one individual taking on that major scoring role. Instead, Winkler described their offensive expectations as "scoring by committee."
That team offense will get most of their support from the back going forward as Winkler pinpointed defenders Mackenzie Kern and Kaiti Wulker and midfielder Taylor Hester as three of Milford's most important leaders on the field.
In search of their second league title in the new ECC, Winkler expects to be competing in one of the best leagues in the region. He highlighted Walnut Hills' similar returning experience and Turpin's talent could provide some difficulty.
Another contender in the ECC will be Milford's Clermont County rival Glen Este. The Lady Trojans, under the direction of Al Kirk, bring back a talented roster of players that include returning All-ECC selections Morgan Terry, Mackenna Lavatori and Madi Velten.
The Trojans have gotten out of the gate quickly, winning their opening two matches, one of which came against West Clermont School District rival Amelia, the defending champions of the SBC-American Division.
Amelia Lady Barons head coach Amy Kemmer brings back a solid squad made up of players who have become increasingly familiar with one another, both by playing together for school and club teams.
Like Milford, the Lady Barons boast a strong contingent of senior leadership, headed up by senior four-year letter winner Madison Terry, a center defender who is committed to Northern Kentucky University.
In all, there are 11 seniors on Amelia's roster, including Allison McDaniel, Courtney Tackett and Ashlee Holcombe, who all, along with Terry, were All-SBC performers a year ago.
The Lady Barons will put an emphasis on transitioning from defense to offense, Kemmer explained, much like what soccer fans see when they turn on the television to watch Clint Dempsey, Landon Donovan and Jozy Altidore.
"We're in a 4-4-2 (formation) typically," Kemmer said. "But the coaching staff has been playing around with a 4-2-3-1, which is what the (United States) men's national team uses, in order to do something different and throw something at our opponents. There's only one striker up front technically, but it allows us to get more numbers forward."
Perhaps one of the Lady Barons' biggest competitors in the SBC-American will be the Lady Lions of New Richmond. Ranked ninth in the city in the Division II preseason poll, New Richmond, under the watchful eye of head coach Chris Malotke, reload after an 8-5-3 2012 campaign.
The Lady Lions' eclectic roster is made up of six seniors, three juniors, five sophomores and four freshmen. The lone returning All-Star is sophomore forward Maren Hance who scored 14 goals as a freshman and has already tallied four goals and one assist through a single game in 2013, a 10-1 smashing of Finneytown.
The Lady Lions will face a big test on Thursday, Aug. 22 when they kick off league play against Western Brown, another contender for the American Division crown.
Also vying for that American Division crown are Bethel and Goshen. While Bethel will be looking for roles to be filled by graduated seniors from a year ago, the Lady Warriors bring back a solid core of young talent headed up by senior Hannah Owens and juniors Haley Halcomb and Brittany Clark.
Unsurprisingly, on the National Division side of the SBC, Batavia will be the team to beat. The Lady Bulldogs, who have won at least a piece of the league title each of the last two years, will be under new leadership as first-year head coach Drew Poling takes over the reigns. However, Poling isn't concerned with the past reputation that comes with wearing the green and white.
"You can look at the past history and records all you want, but it doesn't matter when you step on the field; you have to play the game," he said. "My philosophy is I don't care what color uniform the other team wears, when someone asks me who we're playing this week, I say that it's somebody who is not wearing the same uniform as us."
Some who will be wearing that Lady Bulldogs uniforms that Poling is looking to for big years include Katie Taulbee, Bri Osborne, Erin O'Brien, Hannah Nelson and Taylor Murphy.
With the Batavia season kicking off on Tuesday, Aug. 22, Poling wants to see good possession and small-touch soccer over the first few games as the team begins to gel in game situations.
The Lady Bulldogs will get a good taste of what they're up against in the first two weeks of the season as they play each of the five other teams in their division.
Clermont Northeastern and Williamsburg, two of Batavia's closest geographical rivals, could end up being their biggest competition for another conference title as well.
The Lady Rockets return three All-Stars in Jenny Erickson, Jackie Sullivan and Katlin Reece, while Williamsburg will have the senior duo of Alyssa Donthnier and Mallory Guess heading up their efforts.
For scores and results, visit The Clermont Sun's website at clermontsun.com and check under the Standings header.