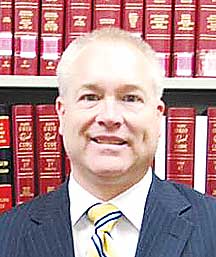 By Kristin Rover
Sun staff
Ohio Governor John Kasich appointed Clermont County Chief Assistant Prosecuting Attorney Kevin Miles to serve as Clermont County Municipal Court Judge July 30.
Miles was appointed to fill the seat of former Municipal Court Judge James Shriver, who was appointed to serve as Juvenile Court Judge earlier this year.
According to Governor Kasich's office, Miles will have to run in November to retain the seat as Municipal Court Judge.
"I am very honored that the governor selected me, and I'm excited to get started at Municipal Court," Miles said.
Miles said he has some big shoes to fill when it comes to replacing Shriver at the court.
"He was an excellent judge," Miles said. "He made some fantastic changes there. I am honored to try and take over for him."
Miles said he will do his best to continue providing the level of experience and hard work at the court.
Miles said he has always wanted to become a judge and is excited to have the opportunity. He said he enjoys the faster pace at Municipal Court and is excited to begin his duties.
"It's a natural next step," Miles said. "It's definitely a new role, but it's somewhat similar to what I do."
Miles has worked at the Clermont County Prosecutor's Office for more than a decade. He earned a bachelor's degree in political science from Northern Kentucky University and his juris doctorate from the NKU Salmon P. Chase College of Law.
"I have been at the prosecutor's office for 13 years," Miles said. "I started at municipal court. I am hoping my work there will give me an edge to hit the ground running."
Miles said his experience as assistant prosecutor and being in charge of the grand jury process, as well as being an adjunct professor for criminal justice students has provided him with experience he feels is important for the position.
"I've been very lucky to have been in front of some excellent judges in Clermont County," Miles said. "I've had some really good models."
Miles will be sworn into office Aug. 16 and will begin his duties at Municipal Court Aug. 19.
Miles said he has already begun his campaign to be elected in November. He said he has been endorsed by the Clermont County Republican Party.