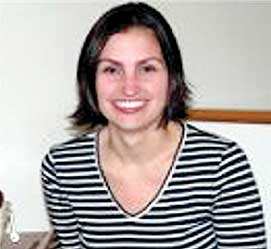 The CASA for Clermont Kids Board of Directors is pleased to announce the appointment of current CASA Program Director, Alison Royalty, as Executive Director effective July 20.
The Board's action comes with the fullest confidence that Royalty will continue to be an excellent steward of CASA's mission and an advocate for Clermont County's abused and neglected children.
Under the current Executive Director, Amanda List, CASA grew from serving about 20 children per year to currently serving over 130 children per year.
The Board recognizes Royalty as a leader who is the right person to continue this growth while providing excellent support to the children of Clermont County.
Royalty has been with CASA since 2010 and has more than 10 years of experience in the field of child welfare.
"I have complete faith in the Board and Alison. I believe that CASA for Clermont Kids will continue to grow and succeed because of people like Alison," List said. "I'm excited to watch Alison step up and move the program forward."
"When Amanda gave the board her resignation, we immediately thought of Alison as a replacement. Although Amanda will be missed, the board is confident that it will be a smooth transition because of Alison's experience in the field as well as her performance at CASA over the past three years," Board President Judge Kathleen Rodenberg said.
CASA for Clermont Kids is a nonprofit child advocacy agency that serves the abused and neglected children of Clermont County. CASA recruits and trains volunteers to be the voice of the abused and neglected children in Clermont County.
To learn more about CASA and the advocacy work being done in Clermont County go to www.casaforclermontkids.org or contact them at (513) 732-7160.