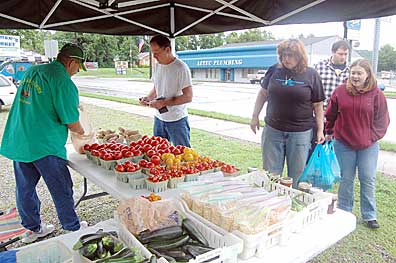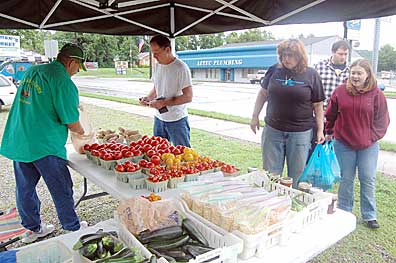 By Kristin Rover
Sun staff
Whether it is a crunchy cucumber, farm fresh eggs, or sweet corn picked off the stalk, farmers markets in Clermont County have what customers are looking for this year, despite what has been a rainy summer so far.
Around a half dozen farmers markets can be found throughout the county during the summer months, and while farmers say they are ready for the rain to stop, they also say they are doing well this summer.
"It's been our best year so far to date," Charlie Ernstes, with Can-Du Farm in Bethel, said.
Can-Du Farm sells a variety of vegetables and other products at farmers markets in Milford and Loveland.
Ernstes said some of his produce is loving the rain this summer, while other produce is hating it.
"It's a good year for corn, but a bad year for tomatoes," Ernstes said.
Vivian Pfankuch with Jaybird Farms, said they have also had a successful year so far.
Jaybird Farms, located in Mt. Orab, sells a variety of fruits and vegetables and farm fresh eggs as well as flowers and other products.
"We're doing really good except for the rain," Pfankuch said about their year so far. "I think the crops are doing better this year, but if it's too wet we don't get plants and if it's too rainy when you're picking you can't get out."
Pfankuch's son, Donny Alderman, said in the past five years they have experienced a boom at farmers markets.
"People want things that are organic or naturally grown," Alderman said.
He said customers also like fresh vegetables and fruits that are picked when they are ready.
"All of this was picked yesterday," Alderman said about the food they brought to the Milford Farmers Market.
Ernstes said he has also seen an increase in customers at the farmers markets in the 20 years that he has been selling produce at markets in the area.
"The biggest change is younger people," Ernstes said. "A lot of people are cooking and they want to know where their food is coming from."
Ernstes said he has more and more people ask about how the food was grown and also how it can be prepared.
"I see a lot more experimentation with the younger crowd," he said.
Donna Kluba, with Ed Kluba Farms in Batavia, said farmers markets have changed a lot since she began selling produce more than 40 years ago.
"A lot of people are going back to fresh," Kluba said. "Which is good. People are more willing to try new things."
Kluba said it seems like there are a lot more markets these days that offer more niche products aside from just produce.
She said she thinks farmers markets will continue to improve if farmers not only sell their products, but also help their customers learn how to use them.
"Farmers need to show how to use it," Kluba said.
She said having recipes and explaining how different products can be eaten is helpful for customers.
Kluba said they have been doing pretty good this year at the farmers markets. She said they go to markets in Milford, Loveland and Mt. Carmel.
Farmers markets in Clermont County are held Tuesdays in Loveland from 3-7 p.m., and at the Loveland Station and in Mt. Carmel, from 2-5:30 p.m. at 453 Cincinnati Batavia Pike. On Saturdays markets are held in Batavia from 9 a.m. to 1 p.m. on Main Street across from the car wash; in Goshen from 10 a.m. to 6 p.m. at 1798 State Route 28; and in Milford, 10 a.m. to 2 p.m. at Milford Garden Center.
Several other farms also have farm stands at locations in Clermont County throughout the week. For more information about these locations visit www.clermonthealthdistrict.org/CANFarmMarket.aspx.