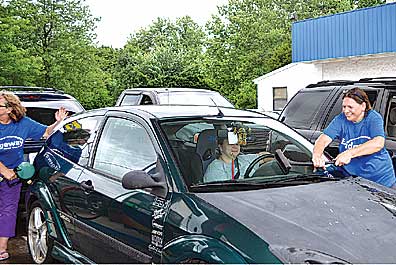 Bridgeway Baptist Church, Amelia, held a gas buydown event Saturday, July 6 at Bethel Sunoco.
For two hours Saturday, the church paid 50 cents of the price of a gallon of gas or all customers, bringing the price down to $2.95 per gallon.
"We thought this would be a great way to show the love of Christ to the community in a practical way," Pastor Brent Cunningham said. "We wanted to let people know that we're here to give back to the community."
The $2.95 per gallon gas drew in huge numbers of customers, but church members kept the lines moving swiftly by pumping customers' gas. They also cleaned windshields and handed out information about the church.
Bridgeway Baptist is located at 1820 St. Rt. 125, Amelia.
For more information, visit http://bridgewaybc.com online or email Pastor Brent at pastorbrentc@yahoo.com.