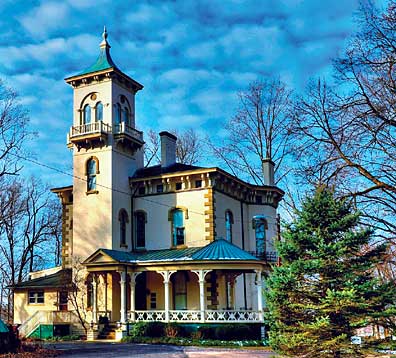 The Greater Milford Area Historical Society has announced that the Promont House Museum is a finalist in Cincy Magazine's Best of the East in the Historic Site/Museum category.
Finalists in approximately 70 classifications will participate in a Best of the East Celebration and Judging on Thursday, July 18, at Receptions-Eastgate, 4450 Eastgate South Drive, Cincinnati, Ohio 45245. Promont is located at 906 Main Street, Milford, Ohio and is home to GMAHS.
"We were extremely pleased to hear that Promont was voted by the community as a finalist in our category," commented Donna Amann, administrator, Greater Milford Area Historical Society. "Promont is a working museum, which means that GMAHS members actively collect, preserve, interpret, and promote the history of Milford and Miami Township."
GMAHS has shown its dedication to its charter in a number of initiatives including the restoration of the Promont House Museum. On the National Register of Historic places, Promont is a Victorian Italianate mansion circa 1865 and the former home of John M. Pattison, Ohio's 43rd Governor. The museum features period furnishings, a reference library, changing exhibits, and a gift shop, as well as docent-led or self-guided tours.
"We are looking forward to talking to the public about Promont at the Best of the East celebration on July 18," continued Amann. "We'll be exhibiting there along with many other finalists in categories ranging from food to health and service to shopping and more."
The Best of the East Celebration is open to the public. For ticket purchase, visit cincyboe.eventbrite.com. For more information on the Greater Milford Area Historical Society and Promont House Museum, visit www.MilfordHistory.net.