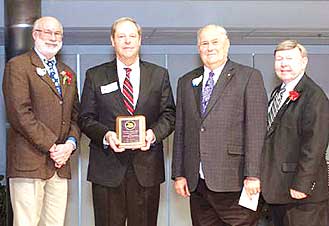 After 39 of service to Grant Career Center, Superintendent Kenneth Morrison has announced his plans to retire in July 2013.
Morrison started his career with the U.S. Grant Joint Vocational School District in 1974 as the director of the newly formed vocational school district in the southern portion of rural Clermont County. He directed the building of the school from the ground up, designing programs, outfitting labs, and filling the chairs with students.
He became the superintendent in 1980 at the age of 34. He is currently in his 32nd year as superintendent.
Much of the career center's success can be attributed to his longevity and continuous leadership. Morrison has worked to keep Grant Career Center on the forefront of technology and pushed for other innovative practices to serve the ever-changing needs of the district and the regional workforce.
He has been proactive throughout his career, meeting each new educational plan and directive with highly creative and successful plans to exceed the expectations of the staff and the community.
Before his time at Grant, Morrison also worked for the Cincinnati Public Schools and the Western Brown School District as teacher and Vocational Director.
Morrison was recently honored as the Ohio School Board Association Superintendent of the Year for the Southwestern Region. As part of the nomination, Public Relations Director Pam McKinney cited Morrison's many outstanding attributes.
"Ken has many outstanding qualities that have allowed him to direct his district to long-term success. He is a visionary man who believes in people and empowers his staff to take ownership of their career center and do what is best for the students of the district. He is a great steward of the district's finances and strives to meet the needs of the community. He works diligently to improve the region's economic sustainability so that Grant Career Center graduates can lead successful lives in their own communities. He is committed to excellence and models that behavior for staff and students as he lives by the motto, 'It is never the wrong time to do the right thing'."
Morrison said he was honored and humbled by the award that was given on March 12 at the OSBA Southwest Region Spring Conference.
In a statement to staff, Morrison said, "I would like to thank all the Board and Staff members that have been an inspiration to me over the years and have supported me with great enthusiasm. I have always loved working with you and appreciate the lasting friendships. I will miss my second family and the community I so eagerly served."