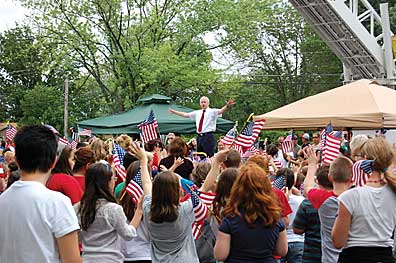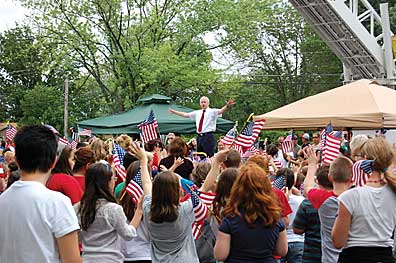 By Jordan Puckett
Sun staff
Willowville Elementary held its annual Memorial Day Parade May 23.
Students lined up outside the school and walked behind veterans and Town Crier Bill Knepp. Students and staff walked around the front of the building, waving flags and singing patriotic songs. After the parade ended, principal Michelle Kennedy gave a speech to remind students and community members of the true meaning of Memorial Day.
At one point during her speech, Kennedy asked her students to give their thanks to the veterans present.
On her count, hundreds of children turned around and said "Thank you" in unison to the veterans that were also their parents, grandparents, aunts, and uncles.
Boy Scouts went around the crowd to each of the many veterans that were present. Each veteran introduced him or herself and stated their years active and gave some background on their deployments. Many of the veterans had served as early as World War II.
Glen Este Middle
School music teacher Tim Kloth directed the elementary school kids in singing songs such as "You're a Grand Old Flag" and "America the Beautiful." Kloth had worked with the children during the week prior to the event to prepare the songs.
The Willowville Elementary School Memorial Day Parade is the longest running elementary school parade in the State of Ohio. This was the 36th year for the parade.