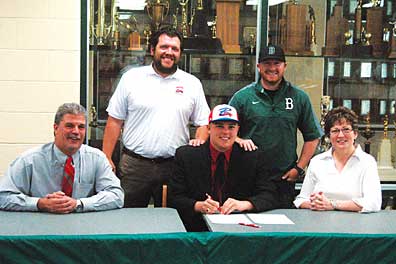 Batavia High School senior pitcher Blake Thronton signed a National Letter of Intent to continue his baseball and academic career at the Ohio State University at Lima.
"I went through a recruiting website and over time I formed some other connections through my coaches," Thornton said. "I got an e-mail from Coach (Abe) Ambroza about going up and trying out. I went up there and saw the campus. It was a very nice campus. There's something about picking colleges, you find a place (that fits). As long as I was playing ball, it didn't matter where I went."
Thornton is a 6-foot-2, 210-pound right-handed pitcher. During his senior season, Thornton pitched 26 innings, notching a 3-1 record and boasting a 2.89 earned run average. He also struck out 29 batters in those appearances.
Thornton's size and loose arm were two aspects that drew Coach Ambroza to recruit the Bulldog.
"We brought (Blake) up for a workout, visit and an interview after doing some research and making some calls," Ambroza said. "With the interview process, he has a dedication to the game of baseball as well as to a getting a good college degree. His demeanor and composure in the interview were important and something I liked right away.
"We got at the workout and had him throw. We liked what we saw right away on the mound. He's got a nice loose arm for a big body. We see some potential for growth and development where we really think that his velocity can go up in a few years with some more development."
Thornton has honed his development over the past two seasons taking the hill for the Bulldogs and also on his summer ball team working with the Cincinnati Baseball and Sports Academy in Fairfield.
How quickly Thornton can capitalize on that potential is key to the impact he will have when he arrives on campus next fall.
"Playing time is always a hard thing to know, especially for a pitcher," Coach Ambroza said. "If you don't throw your curve ball, in college baseball, it's a short season, so playing time is hard to determine.
"He could be anywhere from one of our top-five guys if he comes in and finds it right away and it clicks. He could be used in a relief role or someone who doesn't get a lot of innings, to be honest. As a freshman, I don't make any promises, it's up to them how much work they do and how they continue to improve and show that they can get the outs that we need."
Thronton is determined to make the decision difficult on his new coach, bringing a solid repertoire of pitches as well as a strong work ethic.
"Being a pitcher, it all depends on what is going on (when I get there)," Thornton said. "I can play the field and hit as well. I'll do what I can when (Coach Ambroza) calls on me and that's about all I can expect."
Regardless of the playing time right out of the gate, the signing of the LOI was a big day not only Blake, but also those closest to him.
"It's a dream come true," Blake's father, Bill Thornton said. "He's always wanted to play college baseball and he's done it on his own. It's a dream come true for us."
Blake's mother, Patti, echoed those same sentiments.
"He wants to do nothing but play baseball," she said. "He can play first base and he's a very good pitcher. I'm excited for him."
Expectations for Thornton are high both on the mound and in the classroom. Education was a constant theme in talking with the Thorntons and Blake has a plan for his schooling.
"I'll be going in for business and I plan to go back and get my master's in electrical engineering."