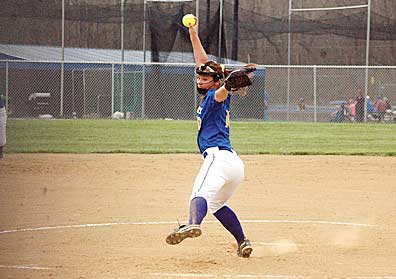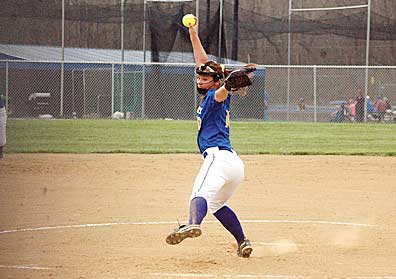 By Chris Chaney
Sun staff
With the official "second season" underway in Ohio High School softball, a handful of Clermont County high schools have high hopes for an extended stay in the state tournament.
Leading the charge out of Clermont is the county's namesake institution, Clermont Northeastern. The Lady Rockets, led by an experienced group of seniors who know how to win in the postseason, have expectations instead of goals.
"Our goal is to get to state," CNE head coach Bill Goldfuss said. "We want to win regionals and get to state. Obviously, you'd like to win a state championship, that's the ultimate goal, but we want to get there. (We want to see) can we get to state and then go from there."
CNE will be led on that journey upstate by their blue chip pitcher Emily Anderson. The Lady Rockets dispatched of their first-round opponent, Mariemont, 22-0 behind 12 strikeouts from Anderson. The pitcher eclipsed the 1,200 career strikeout barrier in the game, putting her at seventh all-time in Ohio High School softball history.
Senior first baseman McKena Miller went 2-3 with five RBI, Chelsae Osborn went 2-3 with two RBI and sophomore Allison Gilkerson went 3-3 with a double, a home run and three RBI. CNE advanced to face St. Bernard at Wednesday, May 15.
Also already in action were Felicity-Franklin, the No. 5 seed. The Lady Cardinals took down No. 12 seed Taylor 3-2 and advance to play No. 2 Fayetteville who defeated Williamsburg, ending the Lady Wildcats' season.
In Division I, Southern Buckeye Conference American Division co-champions Amelia took down Winton Woods 12-2 in the first round to set up a cross-county game against No. 10 seed Milford on Wednesday.
Glen Este, the No. 7 seed, opted to take a bye in the first round and played No. 9 Colerain in the second round on Wednesday, May 15.
In Division II action, all games were played on a Tuesday/Thursday schedule with New Richmond, Batavia, Bethel-Tate and Goshen all in action on Tuesday, May 14.
The Lady Lions played SBC foe Western Brown, while Batavia played No. 3-seeded Wilmington.
Bethel-Tate and Goshen faced off against each other in the first round as the Lady Warriors tried to get some revenge for the 7-0 loss the Lady Tigers hung on them on Friday, April 5.
New Richmond and Batavia have a chance to play one another if both advance to the sectional final, but they will have to win games over higher seeds to set that date on May 21 at Milford.
The winner of Goshen and Bethel will play either No. 5 Indian Hill or No. 7 Talawanda on Thursday, May 16.
For scores and updates of previous games, be sure to follow @ClerSunSports on Twitter. To see the full brackets, you can log on to the Southwest District Athletic Board's website at swdab.org or the Ohio High School Athletic Association's website at ohsaa.org.