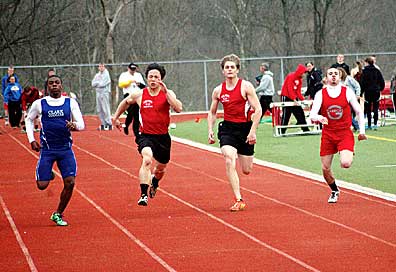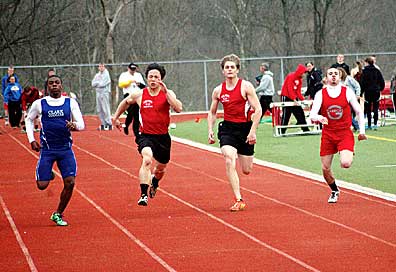 By Chris Chaney
Sun staff
Quality usually outweighs quantity in most high school sports. A football team with two or three studs on offense or defense can carry a team to a postseason appearance; a basketball team with a potent scorer could do the same, but in track and field quality numbers don't always translate to team success.
Head coach Jack Bailey and the Goshen track and field teams are coming to understand that unfortunate fact this season despite being blessed with a good group of talent.
"We're very young and our juniors and sophomores are doing most of our scoring for us," Bailey said. "That bodes well for us in the future, I think, but right now we're going through some growing pains, so to speak, but the kids are working hard and have a really good attitude. We're competitive in most events, but we just don't have the numbers to be competitive in the league at this time."
With the numbers not allowing for the Warriors to compete with larger schools that field full teams, the events that Goshen does compete in usually finds a Warrior bib towards the front of the pack.
On the boys' side, the Warriors are led by a trio of juniors in Jake Nelson, Scott Nichols and Sterling Briggs
"They are doing very well," Bailey said. "Jake's our sprinter in the 100 and 200. He's also done some long jumping for us. Scottie is our pole-vaulter along with Sterling Briggs, another junior, who's done well. Scott also runs 300 hurdles and relays.
"Briggs is currently our No. 1 pole-vaulter and runs the half-mile (800-meters) for us as well."
Junior Darren Wiley is the Warriors main thrower, excelling in both the shot put and discus events. Bailey noted that he has improved considerably since last year.
For the girls' team, they struggle with numbers as well, but not unlike their male counterparts, they make the most of the talent they have.
"Tiera Martinelli is a senior who is doing very well and wins most of the meets she's in," Bailey said. "She just broke the school record in the pole vault at 10-feet."
Bailey has high hopes for Martinelli in the near future, saying she has a chance to represent the school upstate, as he believes she has what it takes to get to regionals and possibly state.
Bailey is also high on Brittany Clark, a familiar name in cross-country circles. Clark runs the 1600-meters and 3200-meters for the Warriors. Already a regional qualifier as a freshman, Clark holds school record in the 3200, and Bailey expects her to do well again in the league meet and districts this season.
Bailey noted again that with just 11 girls on the team, they are competitive in their given events, but can't muster up the points needed to topple bigger teams.
With the Southern Buckeye Conference Meet only two weeks away, the Warriors are looking to peak heading into the May 14-15 event.
Bailey hopes for top-three finishes in the given meets, but realizes that he will need to best from his athletes to better the bigger schools. From there, the Warriors will focus their energies upstate as they compete in the district tournament on May 23, 24 and 25 at New Richmond.