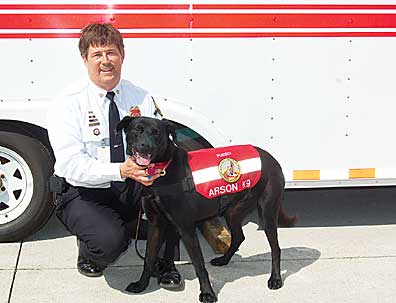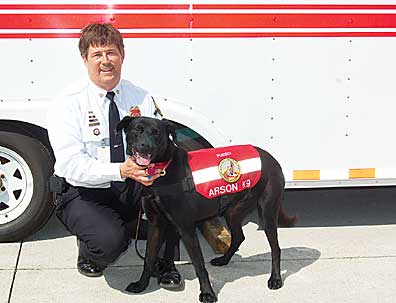 By Kristin Bednarski
Sun staff
A four-legged animal joined the Union Township Fire Department last week, and will help firefighters determine if fires they respond to could have been arson.
Union Township Fire Chief Stan Deimling said at the end of March he traveled to Texas to train with and purchase "Dover," a 2-year-old black Labrador Retriever mix.
Deimling said he trained with Dover at Southern Star Ranch Training Center for 10 days. He said the training center specializes in training rescue dogs, like Dover, to be tracking dogs.
Once he passed a certification test with Dover, he was able to bring him back to the fire department. He said the entire training process, including the purchase of the dog, cost the township $5,000.
Deimling said Dover is replacing the department's former Arson dog, Fuego, who passed away in January.
Deimling said Dover goes to almost every fire that occurs in Union Township to investigate the scene.
"He is trained to recognize ignitable liquids," Deimling said. "He can be called out and pin-point where ignitable liquids may have been used."
Deimling said Dover cannot indicate what liquid was used, but once he finds residue of the liquid, they can send it off to a lab to be tested.
He said they practice with Dover using small quantities of ignitable liquid.
"A dog's sense of smell is 45 percent greater than a humans," Deimling said. "When he trains, he is training with less than one drop of weathered product."
Deimling said Dover can lead them to evidence of liquid at a fire, even if everything has been burned.
"Even after the liquid has been burned there is still residue," Deimling said.
He said using Dover, they have a much better percentage of determining if a fire was arson.
Deimling said he is in charge of Dover and the dog works with him and lives with him.
"He is an absolute blast," Deimling said about working with the arson dog. "We're together almost all the time."