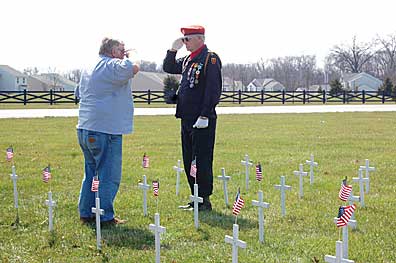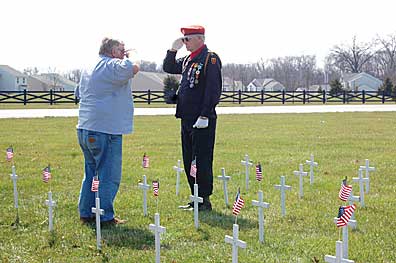 By Kristin Bednarski
Sun staff
Vietnam Veterans of America Chapter 649 held a ceremony in honor of Vietnam Veterans Day March 30 at Veterans Memorial Park in Union Township.
More than a dozen people, mostly veterans, attended the ceremony that was held in front of the helicopter memorial at the park.
"They announced it last year, this is the first year we've had a celebration," Ken Williamson, president of the VVA 649 chapter, said about Vietnam Veterans Day.
Williamson said Ohio Governor John Kasich signed a law last year that declared March 30 as Vietnam Veterans Day to honor those who fought, died, or are still unaccounted for in the Vietnam War.
Williamson said March 30 represents the first day all United States troops were out of the country after signing the Paris Peace Accords in 1973.
He said Vietnam Veterans Day began on the 50th anniversary year of the war, and he said they will hold a ceremony every year for 10 years to honor Vietnam veterans.
"That will mark the end of the Vietnam War," Williamson said about the significance of 10 years.
Williamson said the significance of the ceremony, and the day, is to recognize and honor Vietnam veterans who did not receive that honor when they returned home from war.
"When we came home we had no parade, no celebration, no nothing," Williamson said.
In addition to the ceremony held in Union Township, Williamson said events were held throughout the week in Columbus to honor veterans.
Cliff Riley, president of the Clermont County Veterans' Service Commission, attended several events during the week, and reflected on the events during the ceremony.
"I greeted this day with mixed emotions," Riley said about Vietnam Veterans Day. "To me it was too little too late. I didn't need it. But I saw there were many of those around me that did need to be recognized."
Riley said he was asked to serve on a committee to be involved in Veterans Remembrance Week in Columbus.
He said he attended several events and activities for veterans including the moving wall, visiting military displays, military museum tours and panel discussions.
Riley shared some of the stories he heard during panel discussions, including a panel discussion about the aftermath of Vietnam.
"There are still a lot of scabs on these wounds that are still fresh on these people," Riley said. "To see the being recognized was very emotional."
Riley said while he still feels the recognition is coming too late, he is also happy that it is happening now.
"If you haven't heard it, thank you so much for your service," Riley said. "Welcome home. Welcome home. Welcome home."
After welcoming home and recognizing those who fought in Vietnam and are still alive, members of the chapter also honored fallen Vietnam veterans.
The names of the fallen Vietnam veterans in Clermont County were read while a flag was placed on a cross in the grass.
A poem about losing a friend in the war was read after the flags were placed.
Chaplain Bill Graybill, also a veteran, closed the ceremony with a prayer, and Williamson said he looks forward to seeing everyone at the ceremony again March 30, 2014 to again celebrate Vietnam Veterans Day.