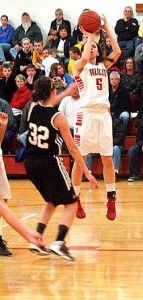 By Chris Chaney
Sun staff
The Southern Buckeye Conference had some of its strongest girls' basketball competition in years in 2012-13 and many of the key contributors were awarded by being named to the conference's All-Star Team.
Heading up the hardware recipients was Felicity's Arica Stutz, who was named Co-Player of the Year in the National Division alongside Georgetown's Madison Pack.
"Arica was probably our go-to (player) and definitely big for us on defense," Felicity head coach Kerry Stamper said. "Losing Arica next year, we'll lose about the only height we had."
Stutz was a do-everything presence for the Lady Cardinals. She was near the top of the team in practically every statistical category. The 5-foot-10 senior led the Lady Cards to a 16-9 overall record and an 8-2 mark in the SBC-National in which they finished runners-up to Georgetown.
Stutz averaged 13.1 points per game, 9.6 rebounds and 3.2 steals to go along with 2.2 assists and 5.5 blocks. The senior was the Lady Cards' last line of defense and did well to discourage and challenge Felicity's opponents' taller players.
Joining Stutz on the First Team in the National Division was teammate Ashley Moore. Moore buoyed Stutz's inside presence by scoring four more points all season, 90 of which came from beyond the three-point arc.
Aside from the Lady Cardinals represented, Batavia's sophomore standout Samantha McElfresh was named to the First Team. McElfresh led the Lady Bulldogs in points (12.7), steals (1.5) and blocks (0.7) and will return next year to continue the team's ascension to the top of the league.
Clermont Northeastern placed a pair of seniors on the First Team as well in Carly Aselage and Chelsae Osborn. The pair led the team in all but one statistical category between them. Aselage averaged a double-double with 11.1 points and 11.1 rebounds per game as well as blocks with 2.6 per contest. Osborn averaged 7.9 points, 3.4 steals and 2.9 rebounds per game.
The lone Williamsburg Lady Wildcat to earn First Team honors was senior Sarah Wetzel.
Second Team selections in the National Division included McKenna Fraley of Batavia, Jessica Kirby of CNE, Kelsey Arkenau and Brooke Corbin of Felicity and Becca Chase of Williamsburg.
On the other side of the conference, the American Division had five local athletes get named to the First Team. New Richmond, the league's third-place finisher was the only Clermont school to place two players on the First Team.
Josie Buckingham and Tina Lawrence represented the Lady Lions who went 17-8 on the year. Buckingham dominated her opponents, especially late in the year. She averaged 20.9 points per game and 13.6 rebounds to go along with 6.1 blocks per game. Lawrence was more of a workhorse for Brad Hatfield's Lady Lions, scoring 6.0 points, grabbing 5.4 rebounds, dishing out 3.2 assists and coming away with 1.1 steal per game.
Joining them on the First Team were Amelia's Danielle Lang, Bethel's Brooke Jenike and Goshen's Kayla Miller. Lang averaged 9.0 points and 7.9 rebounds. Jenike averaged 13.2 points per game and Miller was good for 8.2 points and 2.6 assists per game.
Second Team selections from the American Division included Cassidy Bailey of Amelia, Julia Jenike of Bethel, Courtney Turner of Goshen and Bailey Workman of New Richmond.