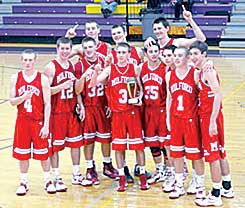 By Chris Chaney
Sun staff
At 15-6 on the year and 8-3 in the Eastern Cincinnati Conference, the Milford Eagles are one of the top teams in the city, but what really sets them apart is that the team is at the top of their class as well.
"This is a really special group," Milford head coach Joe Cambron said of his team. "They get along really well together and they're extremely bright. Our team GPA is a 3.4. These kids are really, really sharp, committed student-athletes. To have a high school boys team with GPA of 3.4 for the second quarter was pretty impressive."
The team's general IQ has translated to the always important "basketball IQ," which allows the team to understand their roles and come together as a team to achieve the best possible results.
The Eagles have been consistently good all season, notching wins over some of the best teams in the area, beginning with a season-opening win over Sycamore and continuing throughout the year and finishing up on a nice roll as they turn their sights to the sectional tournament.
"I'm pleased with how we have been playing lately," Cambron said. "We've had some really good wins, obviously beating Sycamore early in the year and then beating Springboro the other night (Feb. 5) was a big win for us. We've really been playing a lot better late in the year, we're making a little run. We've won five games in a row and have been building a little momentum for the tournament.
The Eagles are led by a group of eight seniors, the most that Cambron has had on one team since his first season at Milford in 2002.
The team's top two leading scorers, Brennan Farrell and Garrett Mayleben both hover around 10 point per game averages, while other role players such as Cy Overbeck and Josh Roof add scoring consistently.
Milford also has a crop of up-and-coming talent that should help to sustain the Eagles' winning ways led by sophomore Ryan Gallimore who averages nearly nine points, three rebounds and three assists a night.
"We have a good mix of kids," Cambron said. "Almost all of them another sport. We have a couple baseball kids, a couple football kids, a couple lacrosse kids; it's a good mix of athletes."
That mix will be put to the test as the wrap up their regular season schedule on Friday, Feb. 15 with a road game at Walnut Hills, the top team in the city and the Associated Press' second-ranked team in Ohio.
"Walnut has earned their No. 1 ranking (in the city)," said Cambron. "No body in Ohio has beaten them, but our goal is not to just go over there and play well, we're going there to win, which would obviously be a huge confidence builder for us going into the tournament."
Milford drew Mason in the first round of the sectional, a game that will be played on Friday, Feb. 22. If the 11th seeded Eagles can get past Mason, a team that beat them earlier in the season, they will have a rematch with the team that ended their season a year ago: Withrow.
"You never look past your first opponent," Cambron said. "Mason beat us earlier in the year, so we've got to take care of Mason before we do anything else. But we want another chance at Withrow. We had them down 1 with the ball and 1:32 to go last year and came up short at the very end, so us having the chance to play them again was definitely on our mind when we selected into that sectional."