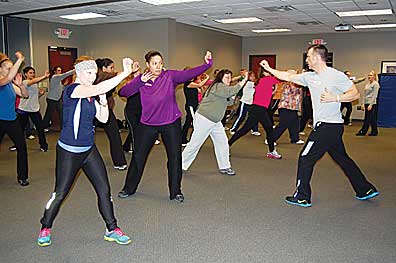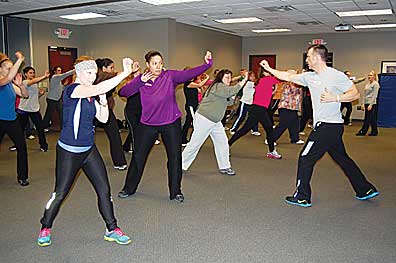 By Kristin Bednarski
Sun staff
The Queen City room at Union Township Civic Center was packed full of women throwing palm strikes, delivering knee and elbow jabs and raising their voices to deter attackers Feb. 9.
More than 45 women of all ages, sizes, and fitness levels participated in the Women's Self Defense Class hosted by Union Township Police Officers.
The three-hour class covered basic, but very important skills anyone can use to defend themselves if they are in a dangerous situation.
Union Township Police Sergeant Mike Mills instructed the class along with police officers Greg Jasper, Andy Bobb and Samantha Fedler.
"Today is a day I hope you feel a little more empowered," Mills said. "I am not teaching you to be a Navy Seal, but I am hopefully teaching you that there is something you can do."
Mills said he would be focusing on teaching class participants how to prevent becoming the target of an attack and know what to do if an attack happens.
"These are skill-based techniques, not strength based," Mills said.
Mills stressed that if participants learn the skills properly they should be able to get away from or discourage an attacker.
Missy LaGana, of Amelia, participated in the class last year and decided to bring her daughter, Emily, 12, to the class this year.
"I was amazed how size didn't always matter," LaGana said. "It's about building confidence. They won't attack someone who is not meek and mild."
Emily LaGana said she was excited to learn new ways to defend herself.
Mills covered a variety of skills in the class.
One of the most basic skills was having a strong stance, with legs apart and slightly bent. He said the stance helps keeps individuals balanced and makes it hard for an attacker to push someone off their feet.
Mills showed the women how to properly strike with their palm, jab with their elbows and knees and instructed them about what body parts to aim for.
Mills continuously reminded the class that reacting and putting up a fight is not what criminals want from a victim.
He likened defensive skills to an alarm system and lights on in a house.
"If you were a burglar and you had a choice between a dark house and one with lights on and an alarm sign, which would you choose?" Mills asked.
He said the same thing applies when an attacker approaches an individual.
"They don't know what you know," he said. "You could be a fourth-degree black belt."
Participants in the class had an opportunity to try most all of the skills Mills taught, which gave them a feel for how effective the skills are.
Tiffany Parks, of Batavia, said her husband, who is a police officer, encouraged her to take the class.
"I really liked the mat stuff," Parks said about learning how to push an attacker off from the floor.
Parks said she feels more able to defend herself after taking the class.
Sibyl Cloud, of West Union, said she would recommend any women take the class.
"The part I most liked is you actually get to do it," Cloud said about learning the skills. "You're not just listening to someone explain it. It makes it stick more."
Union Township Police Department offers Women's Self Defense classes annually.
There was a class in January and February this year.
Participants must register for the classes. They are free, but normally fill up quickly.
For more information about the classes visit www.union-township.oh.us.