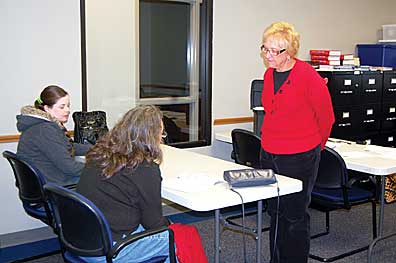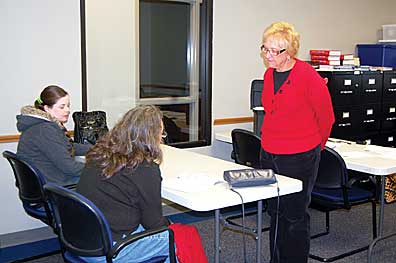 By Kristin Bednarski
Sun staff
How much money do you spend each week? Do you run out of money before you receive your next paycheck? What are your needs and wants?
These are all questions Margaret Jenkins, director of the Clermont County Extension Office, asked individuals during a "counting your money" class Feb. 4 at Workforce One of Clermont County.
Individuals in the class filled out a calendar about their spending habits, discussed priorities, and talked about how to budget money.
"It would help everyone trying to get a job or manage money," Amber Lowry, a New Richmond resident who attended the class said.
Lowry said she has been budgeting her money, but having even more information is helpful.
Ohio State University Clermont County Extension staff are helping individuals like Lowry make better financial and lifestyle decisions with a variety of classes they provide at Workforce One of Clermont County.
Mona Glover, family nutrition program assistant and class instructor, said they have been providing classes at Workforce One for just over a year.
Classes focus on budgeting money, saving money, smart food shopping, and more. Glover said classes also touch on meal planning and healthy eating.
"We've got people who get channeled into the classes from Workforce One," Glover said.
Workforce One, is operated and funded by the Clermont County Department of Job and Family Services and provides a variety of resources for individuals who are unemployed and are looking for a job.
Glover said OSU Extension works closely with Workforce One and provides the classes to help those in the community.
Classes offered by OSU include a budgeting and record keeping class, a smart food shopping class, a meal planning class and a healthy eating class.
"It's amazing," Glover said about how helpful the classes have been. "People say things like 'I am using that grocery list.'"
Glover said they focus some on meal planning because food is more flexibility with food expenses than many other expenses.
Glover said the classes are open to anyone in the community and are free.
For more information about the classes visit www.workforceoneclermont.com.