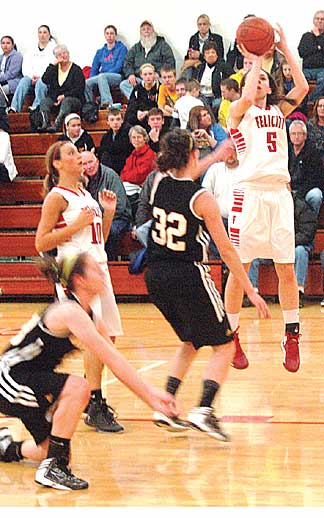 By Chris Chaney
Sun staff
The Felicity Lady Cardinals have put together one of the school's best basketball seasons in recent memory, winning more games already in 2012-13 than they won in the last three seasons combined.
"We started out with quite a few wins and played some rough teams through the middle (of the schedule) and come out to 12-6," head coach Kerry Stamper said. "It's a great record, especially compared to our previous seasons. Our girls were overdue for a good season, so it's gone well."
The Lady Cardinals' mixture of talent, experience and youth has served Coach Stamper's team well this year, relying on a variety of players to handle the burden of bringing Felicity back to basketball supremacy.
The team is led by a pair of senior leaders in Arica Stutz and Kelsey Mitchell, both of whom contribute in various ways.
Stutz is the team's workhorse, leading or near the top of the team in five statistical categories.
"Arica is probably our go-to (player) and definitely big for us on defense," Stamper said.
Stutz leads the team in rebounds with 9.2 per game, assists with 1.8 per game and blocks with five per game. She is also second in scoring, averaging 12.5 points per game and second in steals with 3.1 per game.
Along with her senior counterpart, Mitchell, and a set of juniors, Stamper has found a good mix of players that have grown to know how each other plays.
"My other senior (Mitchell) and three juniors have been playing together since they were young," Stamper said. "Defensively, they're strong, but not as consistent scoring as some of the others.
"We have a freshman in Ashley Moore who has stepped up for us in the scoring department."
Moore has provided that much-needed spark to the Lady Cardinals' offense, buffering Stutz and making opponents account for another scorer. Moore is averaging a team-best 13.3 points per game as well as 3.5 steals to go along with just under four rebounds and two assists per contest.
Felicity's stout defense combined with their steady offense has allowed the team to rocket up the Southern Buckeye Conference standings, losing just two games in conference this season, both of which came to league-leading Georgetown.
At 7-2 in the SBC with one game remaining, the Lady Cards have wrapped up at least a share of the second-place slot depending upon what Clermont Northeastern does in their season finale.
Felicity has one game remaining in their regular season, a Feb 7 matchup with Williamsburg. Following that game, the Lady Cards will play their conference championship game against the second seed from the American Division, which, at this deadline, is Norwood on Feb. 9 at Western Brown.
After the league championship, the Lady Cards will set their sights on a postseason run, beginning with their first-round game versus Waynesville on Feb. 16.
Stamper and her team are readying themselves for the challenge that postseason basketball brings.
"I think our league championship there at the end will be a tough matchup for us, but we're up for the challenge so that will be exciting," the coach said. "We got a pretty good spot on the tournament bracket, so we're going to be looking to make it to the end of the sectional tournament."