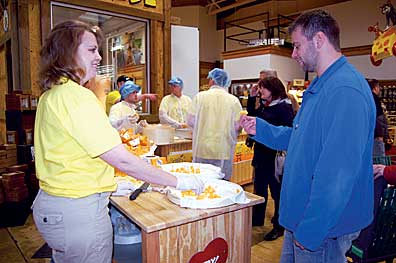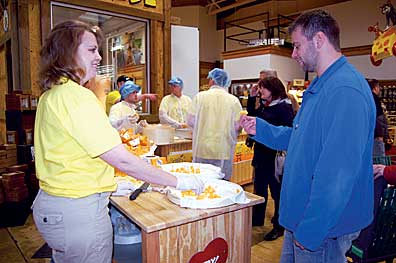 By Kristin Bednarski
Sun staff
Guests at Jungle Jim's International Market in Eastgate, enjoyed cutting into The Big Cheese, a 7,155 pound block of Wisconsin mammoth cheddar, Friday Jan. 25.
Jimmy Bonaminio, creative marketing director and son of "Jungle" Jim Bonaminio, said the enormous block of cheese has been aged for several years, and will be cut and sold piece by piece from the store.
Bonaminio said cheese came from Henning's Wisconsin Cheese, a family-owned company near Kiel, Wisc. The company has been producing a variety of cheeses since 1914, including mammoth cheese wheels like the one at Jungle Jim's.
A sticker on The Big Cheese cooler says the cheese was born on November 9, 2011 and will continue to age in the large cheese cooler at Jungle Jim's until it is all sold.
Employees who work in the cheese department at Jungle Jim's cut the cheese by wrapping a wire around a portion of the cheese and using a winch to slice the top section off of the cheese wheel.
Once the cheese was sliced, it was removed and cut into smaller pieces that were available to sample and purchase.
Lisa Terino and Stephanie Adams, both with Jungle Jim's, helped pass out samples of the cheese during the event.
Terino said customers have been so excited to sample some of the cheese and enjoyed the cheese cutting event.
"They love it," Adams said about the feedback they have gotten.
Gary and Dixie Utter, of Georgetown, were exploring Jungle Jim's and said they happened upon the cheese tasting. Both sampled the cheese and said it tasted great.
Joe Gannon and Adriane Mez, of St. Louis, said they came to the store to get stuff to make dinner, but would likely be going home with some of the cheddar cheese.
"I thought it was cool and it tasted great," Gannon said about being a part of the cheese cutting event.
Bonaminio said they will sell the cheese that has been cut before they cut another section off of the cheese wheel.
For more information about Jungle Jim's visit www.junglejims.com. For more information about the cheese wheel visit www.henningscheese.com.