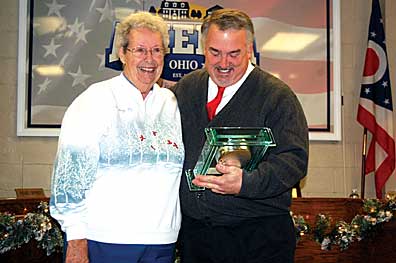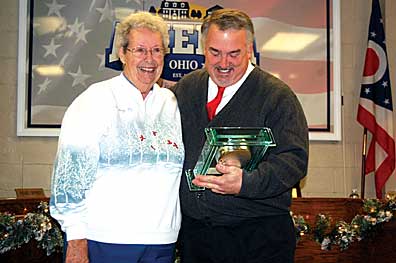 By Kristin Bednarski
Sun staff
Amelia Village Council members honored former councilman Charles "Bob" Pollitt, who passed away Dec. 3, during their Dec. 11 meeting.
An American flag was draped over Pollitt's chair and his name tag remained in front of the seat.
Pollitt died at the age of 84 after battling cancer for several years.
"We lost a vice mayor, a council member and a friend," Amelia Mayor Todd Hart said about Pollitt.
Hart said Pollitt contributed much to the village, including making history by helping to change the liquor laws in Amelia this November.
Hart said he knew Bob wouldn't want them to make a big deal about his passing, but he said they wanted to do something to recognize Pollitt for all his contributions to the community.
Pollitt's wife, Tish, was at the meeting and spoke briefly about her husband.
Tish Pollitt said Bob lived in Amelia his whole life, and was liked by many people in the community.
She said she was thankful for the support of council members and members of the community during the difficult time.
"I appreciate all of your cards and your prayers," Tish Pollitt said.
Hart presented Tish with an engraved clock on behalf of Amelia Village Council.
"My kids are going to treasure this," Tish Pollitt said about the clock.
Later in the meeting, council members appointed Derrick Campbell to fill Pollitt's position as vice mayor.
Hart said Campbell will only be filling the position until the end of the year, when council can decide to appoint someone for the next year.
Council members did not make any plans about filling Pollitt's seat on council during the Dec. 11 meeting.
Hart said council will have 30 days to find an individual or advertise for an individual to fill the position. Hart said after 30 days, the appointment becomes the responsibility of the mayor.
Hart said council members will be meeting Dec. 18 to discuss how they will proceed.